Baylor Bears
Sunday Six-Pack: Texas Tech, Oklahoma Take Series While Texas and West Virginia Sweep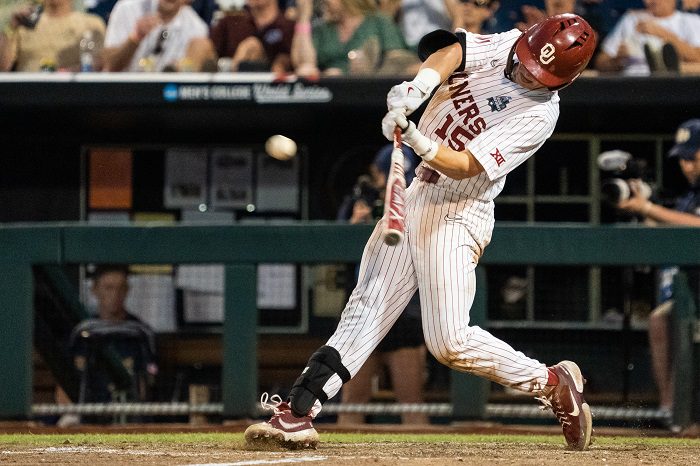 Is there anything better than cold beer and baseball? It's a combination that is hard to beat during the season. No matter what kind of beer you drink (or how many), let's take a look at some of the best action on the Big 12 baseball diamond from Sunday with a nice six pack.
Best Game
Oklahoma vs #11 TCU
We got to see a rubber match on Sunday afternoon between two really good teams. TCU took game one on Friday night and then Oklahoma took game two on Saturday. The first three innings of Sunday's matchup went scoreless and then TCU struck first by scoring two runs in the fourth inning. The Horned Frogs added another run in the fifth when Brayden Taylor hit his third homer of the series. But the Sooners responded quickly by putting up two runs before tying the game in the sixth inning when Rocco Garza-Gongora was hit by a pitch with the bases loaded.
TCU would take the lead once again in the seventh thanks to Karson Bowen, but the Sooners would tie the game in that same inning due to an error. Anthony Mackenzie ended up being the one who gave Oklahoma the lead with his two-RBI single. That hit ended up being the one that Oklahoma needed to wrap up this series.
Best Win
#22 Texas Tech over #12 Oklahoma State
A run rule in Lubbock? While we do see that in non-conference play it's not often you see that during Big 12 play especially against a top 25 team. Oklahoma State is one of the best teams in the country and Texas Tech absolutely crushed them on Sunday afternoon. The Red Raiders had a monster ten run fifth inning that was highlighted by Austin Green and Damian Bravo home runs. Nobody and I mean nobody saw this result coming especially when Juaron Watts-Brown was on the mound for Oklahoma State. Kudos to Texas Tech because with the big win on Sunday, they were able to take the series and will most certainly be moving up my power rankings.
Worst Loss
Kansas State
After taking game one against Baylor on Friday evening, the Wildcats fell short in game two. That set up an interesting matchup going into Sunday and Kansas State actually held a 4-0 lead going into the sixth inning. That's when Baylor woke up and scored eight runs and took the game over. It was a shocking outcome to say the least because Baylor isn't a very good team in my opinion and I thought Kansas State wouldn't have any issues down in Waco.
Sunday MVP
Texas Tech INF Austin Green
Austin had a performance to remember on Sunday as he had two monster hits against Oklahoma State. He crushed a grand slam in the fifth inning and even had another hit in the same inning that brought in another run. Austin played a big role in Texas Tech's big win over Oklahoma State.
Pitcher of the Day
West Virginia RHP Grant Siegel
Another day means another West Virginia pitcher gets to be the pitcher of the day. After Blaine Traxel's complete game on Saturday, Grant Siegel pitched a gem on Sunday. Grant pitched five innings and only allowed a single hit during his time on the mound.
Best Home Run
Texas Tech INF Austin Green
I love grand slams and Austin Green had a big one against Oklahoma State to help win the series.
Full Scoreboard
Oklahoma: 7, #11 TCU: 5
#22 Texas Tech: 12, #12 Oklahoma State: 1
West Virginia: 8, UNC Greensboro: 0
Texas: 9, New Orleans: 3
Baylor: 8, Kansas State: 4
Kansas: 12, The Citadel: 8