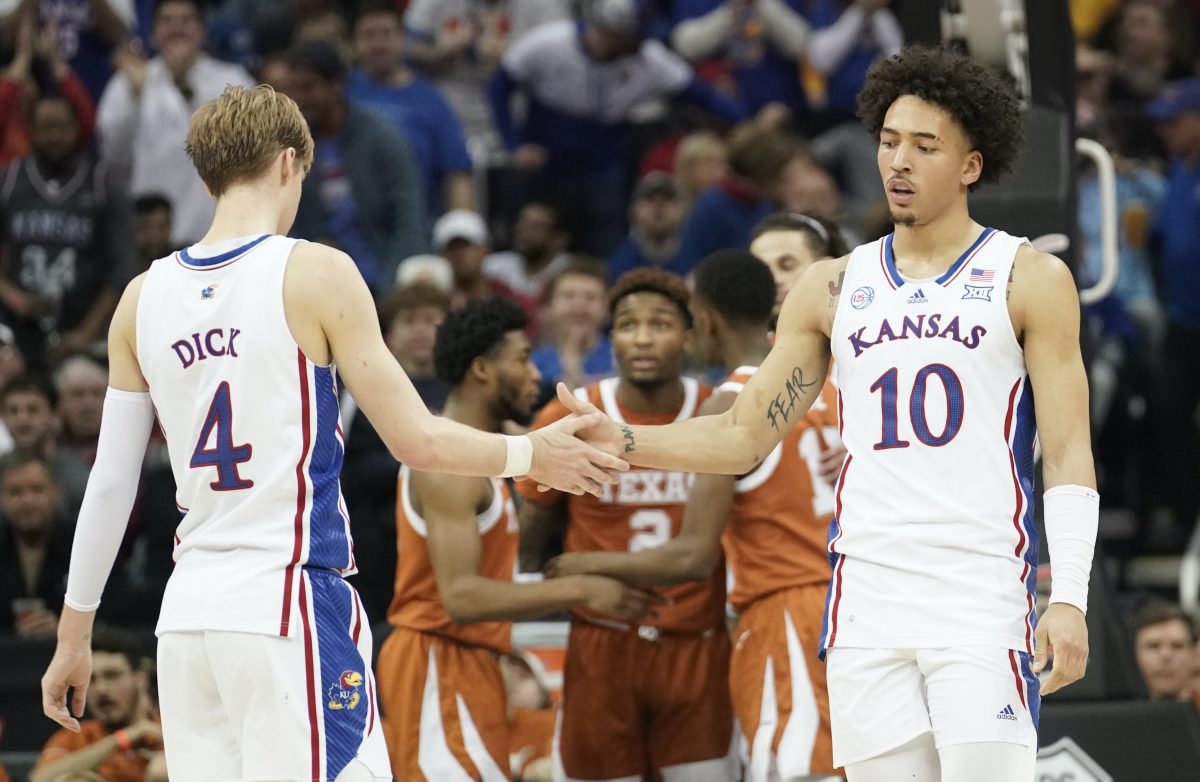 The Kansas Jayhawks finished 28-8 after being eliminated in the second round of the NCAA Tournament. Here are five thoughts on their season.
The Wrap
The Jayhawks' only loss in non-conference was to Tennessee in the final of the Battle 4 Atlantis, and anytime a ranked team loses to another ranked team it's hard to find fault (especially since the Vols just advanced to the Sweet 16). By the end of non-conference Kansas was 2-1 against ranked teams and 6-1 against Power 6 teams. It also dominated Missouri and Indiana back-to-back.
Kansas started Big 12 play the way one would expect — five straight wins. Some were close. But the trip to Manhattan on Jan. 17, an 83-82 overtime loss to Kansas State, sparked the unthinkable — a three-game losing streak. What followed that Kansas State loss was one of the worst losses at Allen Fieldhouse in the Bill Self era to … TCU? Yep, 83-60. Then a road loss to Baylor, 75-69.
A win over Kentucky on the road seemed to right the ship, and while Kansas looked shaky at times the Jayhawks won eight of its last 10 Big 12 games to claim the Big 12 regular-season title and the No. 1 seed in the Big 12 Tournament.
Then Self missed the rest of the season after a heart procedure on the eve of the Big 12 Tournament. Norm Roberts took over, as he did when Self missed the first four games due to a suspension. The Jayhawks didn't win the Big 12 Tournament, falling to Texas in the title game.
It didn't stop Kansas from getting a No. 1 seed in the NCAA Tournament, though there was some controversy when it didn't get the No. 1 overall seed. The Jayhawks beat Howard easily in the first round but fell to Arkansas in a classic in the second round. That ended Kansas' national title defense.
The Leaders
Jalen Wilson was the unanimous Big 12 Player of the Year and he led the Jayhawks in scoring (20.1) and rebounding (8.2). He showed vast improvement, the same type of improvement that Ochai Agbaji showed a season ago. It led to the same accolades, including First-Team All-American selection for Wilson.
Freshman Gradey Dick averaged 14.1 points and 5.1 rebounds per game as Self started him from the beginning of the season and he was one of two Jayhawks that shot 40 percent from the 3-point line. The other was a bit of a surprise — guard Dajuan Harris Jr.
Harris only averaged 8.9 points per game, but he shot 40.5 percent from the 3-point line and he averaged a team-high 6.6 assists and 2.2 steals. He was the Big 12 Defensive Player of the Year.
Transfer Kevin McCullar fit right into Kansas' plan and averaged 10.7 points and 7.0 rebounds per game. He also consistently defended the opponent's top wing player.
Forward K.J. Adams Jr. was the Big 12's Most Improved Player, as he capitalized on becoming the Jayhawks' undersized center and averaged 10.6 points per game.
Kansas didn't flex its depth much, but guard Joseph Yesufu, center Ernest Udeh Jr., guard Bobby Pettiford Jr. and forward Zuby Ejiofor took turns giving Kansas something off the bench.
Who's Leaving?
Only two players were on honored on senior night — Wilson and McCullar. Wilson has a COVID waiver he can use, but he seems likely to take his shot at the NBA. McCullar is out of eligibility.
But Kanas has two other players listed as seniors or super-seniors on the roster — Michael Jankovich and Cam Martin. Jankovich is an invited walk-on who has been on the roster for four years. Martin missed most of the season due to injury, but he's used his redshirt and his COVID waiver. Unless he gets an injury waiver, he may well be done. Self said in March that Martin will pursue an injury waiver.
Dick is the other player to watch. A projected first-round pick in the NBA Draft, he could opt to leave early. He would not say which way he was leaning after the Jayhawks' loss to Arkansas.
Barring transfers out, the Jayhawks stand to return a lot of players.
Who's Staying and Coming In?
Harris and Adams will be the core returnees next season. If Dick returns, that's a bonus for Kansas. From there, the Jayhawks expect to have Pettiford, Yesufu, Udeh, Ejiofor, guard Kyle Cuffe Jr., guard MJ Rice, guard Wilder Evers, guard Charlie McCarthy, forward Zach Clemence and forward Dillon Wilhite. We should note that Evers, McCarthy and Wilhite are walk-ons. So that's nine scholarship players without Dick. If he returns, that's 10. If Martin gets his waiver, that's 11.
The Jayhawks hauled in a pretty typical recruiting class. All three recruits are in the Top 100 in 247Sports.com's rankings — point guard Elmarko Jackson, combo guard Chris Johnson and shooting guard Jamari McDowell. The class was ranked No. 10 by 247Sports.com.
Oh, make that four. The day after Kansas lost its second-round NCAA Tournament game, the Jayhawks got a gift — 2024 commit Marcus Adams Jr. announced he was going to reclassify for the 2023 Class.
So, as they say, the rich get richer.
What's Next?
First, the Jayhawks need a decision from Dick, which will probably be to head to the NBA. Looking at next year, this team will be quite young, with Harris and Adams serving as the Wilson and McCullar of next season. Look for Harris to declare for the NBA Draft but retain his eligibility so he can get his report card. Don't be scared. He'll be back. Assuming the Jayhawks hold on to everyone expected to be back, this will be a roster teeming with four- and five-star talent that will have to mature quickly. Beyond Harris and Adams, the starting lineup is anyone's guess.
You can find Matthew Postins on Twitter @PostinsPostcard