Trending Now
Report: Pac-12 TV Deal Could Change Depending on Apple's Timeline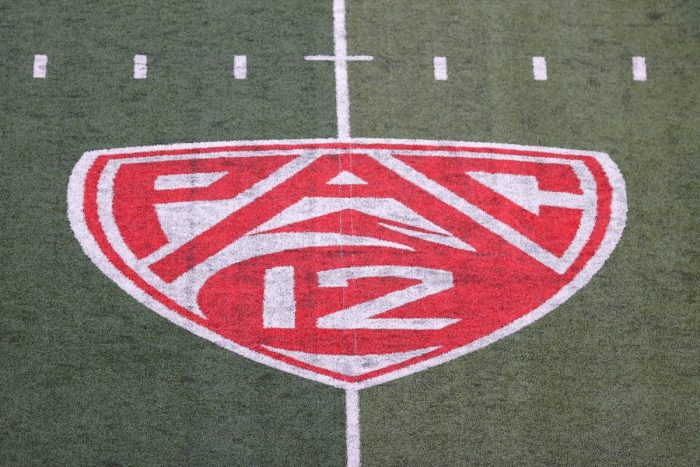 We are just 11 days from turning the calendar over to April and the Pac-12 still hasn't locked in a television deal for the future.
The most suitable buyer for the Pac-12 product, Apple, hasn't been in a rush to get a deal done and that has increased the pressure that the conference's schools are feeling.
$400 million annually was what the Pac-12 was expecting to land months ago, but now the target of $300 million per year seems more likely, although still lofty after months of dead talks. If the Pac-12 is going to hit that number though, it will likely come via Apple, according to the New York Post.
"For the Pac-12 to reach the $300 million per year mark to basically match the deal the Big 12 received from ESPN and Fox Sports, the most likely platform to pay that at this point would be Apple, as we reported last month," Andrew Marchand writes. "To be clear, we aren't saying that is happening, but Apple is the company that could potentially reach that number, and adding Pac-12 rights does fit what Apple seemingly is trying to do in sports. But it figures to be an all-Apple deal."
The problem is, Apple isn't in a hurry to get anything done and the Pac-12 has been saying that something is coming down the pike by the end of the month. When Apple doesn't jump, because it doesn't for anyone, what is Pac-12 commissioner George Kliavkoff going to try and sell to his member schools' presidents?
Are they going to go back to ESPN, and take a deal that is significantly lower than anyone else in the Power Five? Or, is Kliavkoff forced to wait on Apple, and project numbers nearly on par with the Big 12, but with streaming as the conference's only option for televised events.
"The Pac-12 could turn back to ESPN/ABC, but the deal that was once on the table — the same $31 million per year per team that the Big 12 got — is no longer there," Marchand writes. "If the Pac-12 returns to ESPN, it will likely mean it is willing to take less money in exchange for exposure. At this point, a deal with ESPN is not close."
So, if ESPN isn't close and Apple is in no rush to jump in bed with a conference on life support, then certainly there is another option out there, right?
"If not Apple, then who," Marchand asks. "There always could be other wild cards, but they aren't apparent right now. That's why when University of Arizona president Robert Robbins says he has to see the numbers to compare with what the Big 12 could offer, that is the money quote from his interviews with CBS Sports and The Athletic."
It's quite a predicament to be in for the Pac-12, and the Big 12 is sure glad that Brett Yormark is in charge and jumped to get a deal done right away. As we have for weeks (or months), we will just have to wait and see what happens, but despite all the posturing the Pac-12 can put out there, it feels like something big is coming, right?