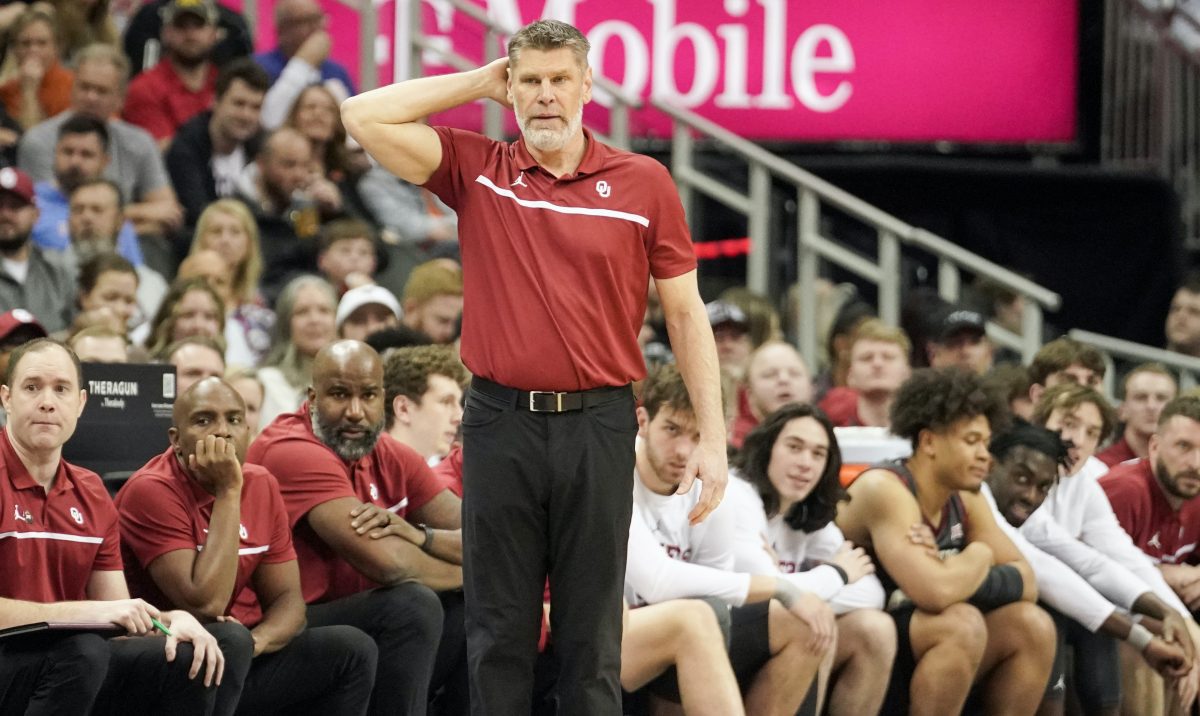 The transfer portal is already starting to impact both Big 12 men's and women's basketball, the NCAA Tournaments aren't even over yet.
Each Wednesday I'll have some thoughts on what's going on in the transfer portal from a Big 12 perspective, at least until things settle down. Which, frankly, could be never.
Lubbock in Their Rear-View Mirror
Three Texas Tech Red Raiders are already in the transfer portal, including forward Fardaws Aimaq. Such is the fallout after a coaching change.
The real question is how much more talent will Texas Tech leak before and after it makes its hire?
Coaching changes in the Big 12 the past two seasons have led to massive talent turnover. Kansas State had just two players left by the time Jerome Tang had unpacked in Manhattan. There was significant turnover when T.J. Otzelberger took over at Iowa State, when Porter Moser took over at Oklahoma and, heck, when Mark Adams took over at Texas Tech.
Aside from the three players that have declared, the only other player the Red Raiders will lose is forward Kevin Obanor. He's out of eligibility. If I were an incoming head coach, the one player I would be working hard to keep is guard De'Vion Harmon, who would appear to have a year of eligibility left. Don't look for guard Jaylon Tyson to transfer, either. He's already done it once and would need a waiver to do it again.
But any player that hasn't transferred yet or graduated? Those are the ones you have to watch once the Red Raiders make their decision.
And, as we learned on Tuesday night, Paul Mills is off the table. The Oral Roberts coach is on his way to Wichita State.
Sooners Leaking Depth
Speaking of Oklahoma, the Sooners might actually be in worse shape than the Red Raiders right now.
Moser and the Sooners are losing two fifth-year seniors in Grant Sherfield and Tanner Groves. Three players that served as depth or up-and-coming talent at OU have declared for the portal — guard Bijan Cortes, guard C.J. Noland and guard Benny Schroder.
That's five players out the door, including your top guard and top forward. Moser has done good work tapping the transfer portal the past two seasons. That's how he got Sherfield, Groves, Jacob Groves and Jordan Goldwire.
This will be a more significant offseason for him. He needs to replace his two leading scorers and try to interest players that will be joining a team that hasn't made the NCAA Tournament in two seasons under Moser. It's a more difficult task than one might think.
More to Come at Kansas?
Forward Cam Martin became the first Jayhawk to enter the transfer portal on Monday. Martin was a former Division II Player of the Year who, due to injuries, never played more than a few games for Kansas. But, hey, he's got a national championship ring.
He may not be the only one leaving, either. One thing I've noticed with coach Bill Self in six years of following this conference is that he tends to go no more than eight deep in his rotation. If you're looking at the current roster — and the array of young talent coming in, including the reclassified Marcus Adams — the competition for playing time will be crazy.
The only two locks for starting jobs next season are Dajuan Harris Jr. and K.J. Adams (this assumes that Gradey Dick and Jalen Wilson head for the NBA). The rest of the roster, both what's on campus and incoming, will be competing for six spots.
A few players might decide to take their chances in a less competitive environment. And that came Wednesday in an update from Lawrence that guard Bobby Pettiford submitted his name for the transfer portal as well.
Waiting on WVU (Women)
With the departure of coach Dawn Plitzuweit to Minnesota, all eyes should be on two players in Morgantown that COULD decide to transfer if they wish — guards JJ Quinerly and Jayla Hemingway.
The pair would certainly be the most coveted players on the roster, if they decided to transfer. Last year, after the retirement of Mike Carey and Plitzuweit's hiring, they chose to stay and they had good seasons in Plitzuweit's system.
But might a second coaching change in two seasons cause them to re-think staying? It may all depend on who new athletic director Wren Baker hires. He should be looking for a coach that runs a guard-friendly system, can tap the transfer portal and wants to stay in Morgantown more than a season.
You can find Matthew Postins on Twitter @PostinsPostcard
Big 12 Basketball Transfer Portal
(as of March 21)
Men
Outgoing — Kansas: F Cam Martin, G Bobby Pettiford; Oklahoma: G Bijan Cortes, G C.J. Noland, G Benny Schroder; TCU: F Eddie Lampkin, G Michael Niemann; Texas Tech: F Fardaws Aimaq, F KJ Allen, Robert Jennings; West Virginia: G Jamel King. Houston: C Kiyron Powell (to Southern Indiana) UCF: G Jayhlon Young.
Incoming — Texas Tech: F KyeRon Lindsay (from Georgia); West Virginia: F Jose Perez (from Manhattan), G Omar Silverio (from Manhattan).
Notes: Perez transferred to WVU in November but didn't get a waiver to play in 2022-23. Silverio transferred in March and needs a waiver.
Women
Outgoing — Baylor: F Kendra Gillispie; Houston: G/F Paris Netherly; Iowa State: G Maggie Espenmiller-McGraw; Kansas: G Bella Swedlund (Toledo); Texas: G Kyndall Hunter; West Virginia: G/F Savannah Samuel.
Incoming — BYU: G/F Jennah Isai (from Oregon); UCF: G Ashley Foster (from Georgia State), G Kaitlin Peterson (from Indiana), G Timia Ware (from LSU); Oklahoma: G Kaley Perkins, G/F Payton Verhulst (from Louisville); Oklahoma State: F Hannah Gusters (from LSU);
Sources: Players' social media accounts, Verbalcommits.com, 247Sports.com, Wbbblog.com