Big 12 News
Big 12 Issues Ruling on Tech Pitcher Brandon Beckel's Suspension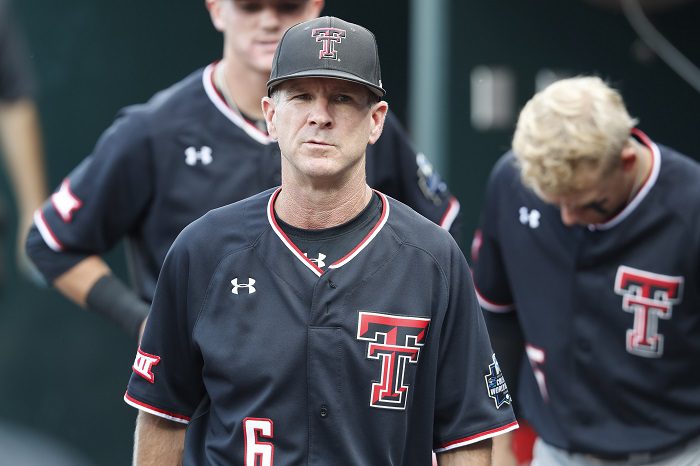 Texas Tech pitcher Brandon Beckel will have to serve his four-game suspension for an ejection over the weekend against Oklahoma State, the Big 12 announced Wednesday. It's not up for appeal, the league explained in a statement.
"Texas Tech pitcher Brandon Beckel was ejected under rule 5-17 Unsportsmanlike Conduct," the Big 12 started in its explanation, via KAMC/KLBK's David Collier. "Per NCAA Baseball Playing Rule 2-26-e, an ejection of a pitcher carries a four game suspension. This is not a suspension handed down by the Big 12 Conference but by NCAA rule. It is not able to be appealed by any entity, including Beckel, Texas Tech and the Big 12 Conference."
In more specifics on the event, which falls under the aforementioned, rule 5-17 Unsportsmanlike Conduct, the league explained the following: "The umpire shall warn the offending individual and the coach one time. If the unsportsmanlike conduct continues after the warning, the offender shall be ejected. If the unsportsmanlike conduct continues after the first ejection, the head coach shall be ejected along with any other offending personnel."
Further clarification under 2-26-e dictates that "Whenever a pitcher is ejected for disputing an umpire's decision or for unsportsmanlike conduct or language directed at an opponent or umpire (including a post-participation ejection), the suspension will be for a total of (4) games." Timing of the incident with regards to whether the player is participating or not does not matter.
Beckel was ejected during the sixth inning of Sunday's 12-1 Red Raiders win over the Cowboys. He still picked up the win, while throwing 2.1 innings of shutout ball with three strikeouts to two hits, one walk and one hit-by-pitch.