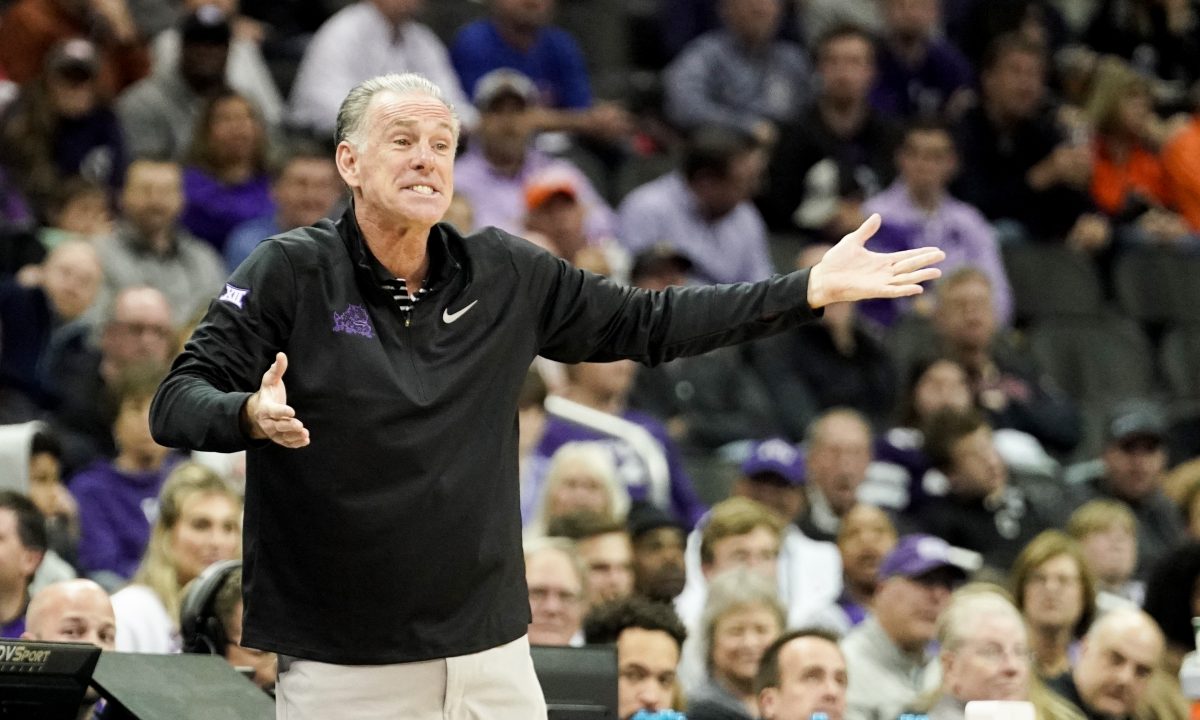 The TCU Horned Frogs finished the 2022-23 season 22-13 and reached the second round of the NCAA Tournament. Here are five thoughts on their season.
The Wrap
TCU had the worst loss of any Big 12 team in non-conference and it wasn't close. TCU's 64-63 loss to Northwestern State came against a Demons team that, at the time, had the 13th-worst Ken Pomeroy rating in the nation at the time.
Otherwise? TCU looked the part of a trendy NCAA Tournament team. The Horned Frogs went to the West Coast and took care of Cal and Iowa. They beat Providence in their Big 12-Big EAST Battle showdown. The Horned Frogs took care of pesky Iron Skillet rival SMU. And they beat Utah on the road. In all, TCU went undefeated against Power 6 teams (4-0) and 1-0 against ranked teams entering Big 12 play.
TCU toggled back and forth as league play started. A 2-0 start with wins over Texas Tech and Baylor. Then two losses to Iowa State and Texas. The high point was a trip to Lawrence, Kan., on Jan. 21, when the Horned Frogs handed the Kansas Jayhawks a whooping for the ages, 83-60.
Then, guard Mike Miles was hurt in the Big 12-SEC Challenge game against Mississippi State. The Horned Frogs lost that game and four of the next five before getting him back. From there, Miles powered a surge, as TCU won three of its last five regular-season games, along with beating Kansas State in the Big 12 Tournament quarterfinals. Texas eliminated TCU the next night.
With a No. 6 seed, TCU had to outlast Arizona State in the first round and then were outlasted by Gonzaga in the second round. The Horned Frogs were hoping for more, but it fell just a bit short of winning two games in a single tournament for the first time.
The Leaders
Miles was the Horned Frogs' leading scorer, averaging 17.9 points. He was also All-Big 12 Second Team. He did so after briefly flirting with the NBA last spring. His importance to this team was clear when he was hurt.
Guard Damion Baugh improved from last season to this season. He averaged 12.6 points but he also led the team with 5.8 assists and 1.8 steals. His long arms and quickness were a match-up problem on the defensive end.
Forward Emanuel Miller averaged 12.3 points and a team-leading 6.5 rebounds per game. With this trio, the Horned Frogs were able to stay with every team they played with this season.
From there, the Horned Frogs deployed a wealth of role players, starting with forwards Ja'Kobe Coles (8.6 points) and Chuck O'Bannon (7.7 points), along with guard Micah Peavy (7.0 points). Forward Eddie Lampkin Jr. was a fixture inside (6.3 points, 5.9 rebounds) until he was hurt in February and then left the program controversially in March.
Guard Shahada Wells (5.9 points) gave the Horned Frogs good minutes when Miles was hurt and forward Xavier Cork (4.4 points) was a starter when Lampkin was hurt.
Who's Leaving?
Obviously, Lampkin is out the door and already in the transfer portal. Miles is a junior and has flirted with the NBA once. He might do it again, and this time for keeps. The Horned Frogs have three seniors listed on their roster, but they're all key players — Miller, Baugh and O'Bannon.
O'Bannon is a super-senior and is in his sixth year of college basketball. He should be out of eligibility. Baugh and Miller both played in 2019-20 and should have COVID waivers, if they choose to use them.
Who's Staying and Coming In?
Let's assume Baugh and Miller are coming back, but Miles opts for the NBA. The Horned Frogs also expect back Peavy, guard PJ Haggerty, guard Rondel Walker, Cork, guard Shahada Wells, guard Michael Niemann, Coles, guard Tyler Lundblade, center Souleymane Doumbia, guard Darius Ford, guard Trey Stuart, guard Cole Despie and guard Zach Gonsoulin. That's 15 players. TCU's roster doesn't specify which ones are walk-ons.
Head coach Jamie Dixon signed two players in the early signing period, with forward Jace Posey — a Top 100 recruit from Strake Jesuit Prep in Houston — the big get. Mansfield (Texas) forward Isaiah Manning also signed. Dixon has had good luck in the DFW area of late.
What's Next?
Miles has to make a decision. So do Baugh and Miller. After that, can TCU keep all these players? If so, the Horned Frogs may not have room to add in the transfer portal. Frankly, if they can keep everyone, TCU may not need to tap the portal. After two straight second-round exits, Dixon wants to keep this program sustainable.
You can find Matthew Postins on Twitter @PostinsPostcard