Baylor Bears
Big 12 Baseball Preview: A Showdown in Austin Awaits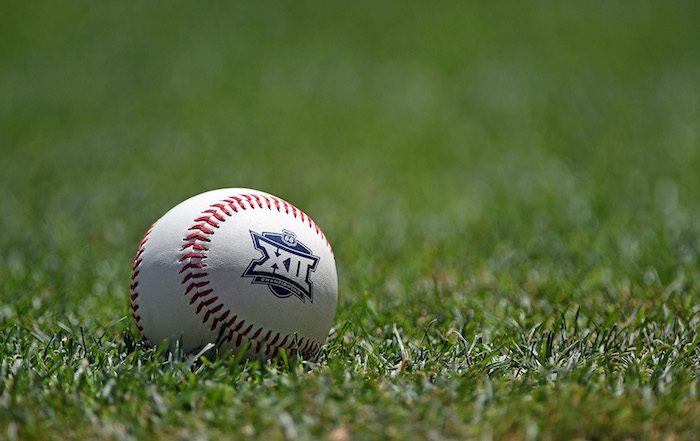 It felt like just yesterday opening weekend was here and now we are entering the second weekend of conference play. Let's take a look at the upcoming weekend for Big 12 baseball.
#14 Texas Tech at Texas
If you can only watch one series this weekend, then this is the one to watch. This is by far the biggest series this weekend in my opinion. Let me start by saying that Lucas Gordon has become the ace for Texas and looks like one of if not the best pitcher in the Big 12 right now. But Texas is going to need a little more than him to cool down the bats of Texas Tech. Gavin Kash and Austin Green have been raking as they are hitting over .400 and they also have four other guys in their lineup over the .300 mark with Gage Harrelson, Kevin Bazzell, Tracer Lopez, and Nolan Hester.
Meanwhile, Tech's pitching is a little bit similar to Texas. Mason Molina is the clear ace of the staff, but they have yet to find that strong second of third guy for their rotation. That is going to be something to keep an eye on because the offense for Texas has been heating up with Peyton Powell, Eric Kennedy, and Porter Brown. With that said, I still like the Red Raiders to take two out of three this weekend in Austin.
My Pick: Texas Tech
#24 West Virginia vs Xavier
The Mountaineers are the only Big 12 team left playing a non-conference series but they do have an interesting matchup ahead. Xavier comes into town and despite their record, they are a solid club. They have an ace pitcher in Ethan Bosacker and the power of Matthew Deprey isn't something to take lightly as he has crushed eight homers already this season. However, I feel like the dynamic duo of Ben Hampton and Blaine Traxel can slow Xavier's offense down. Plus, West Virginia has been hot at the plate as JJ Wetherholt, Caleb McNeely, Tevin Tucker, and Braden Barry are all hitting above the .300 mark this season.
My Pick: West Virginia
Baylor at #20 Oklahoma State
Baylor may have won their series against Kansas State last weekend but Oklahoma State is a different animal, especially in Stillwater. The Bears will be facing an angry Oklahoma State team that has something to prove after their embarrassing series loss to Texas Tech on Sunday. I don't think Baylor has the arms to cool off Oklahoma State's offense with guys like Nolan Schubart, David Mendham, Aidan Meola, Roc Riggio, and Nolan McLean. That's a tough lineup for anybody to pitch to and we all know that O'Brate is hitter friendly stadium. I expect a big bounce back weekend for the Cowboys and don't be shocked to see a sweep here.
My Pick: Oklahoma State
Oklahoma at Kansas State
The Sooners are still riding high after their series win against TCU last weekend. Meanwhile, Kansas State is coming off a bad loss to Baylor. For those who follow along know I like Kansas State's offense. Nick Goodwin, Cash Rugely, Brendan Jones, and Brady Day have all been great this season at the plate, but their pitching has been questionable at best outside of Owen Boerema. I am not sure that staff can hold up against the bats of Easton Carmichael, Anthony Mackenzie, and Dakota Harris. However, Oklahoma's pitching hasn't been exactly dominating either besides Braxton Douthit. I fully expect plenty of runs to be scored this weekend but give me the Sooners.
My Pick: Oklahoma
Kansas at TCU
If anyone needs a pick me up type of series, it's TCU. At one point they looked like a top ten team and now they look like a middle of the pack Big 12 team. I really like TCU's starting rotation with Kole Klecker and Cam Brown, but that offense of theirs is in a bit of slump. Tre Richardson and Austin Davis have been consistent and so has the power of Brayden Taylor. Outside of that, the offense for them has plummeted to the second worst in the conference. The good news is that they will be facing one of the worst pitching staffs in the Big 12 along with one of the worst offenses. If TCU is going to turn this season around then it should start this weekend.
My Pick: TCU