Big 12 News
Jerome Tang on Big 12 After Sweet 16 Win: 'We're the Best Basketball Conference in the Country'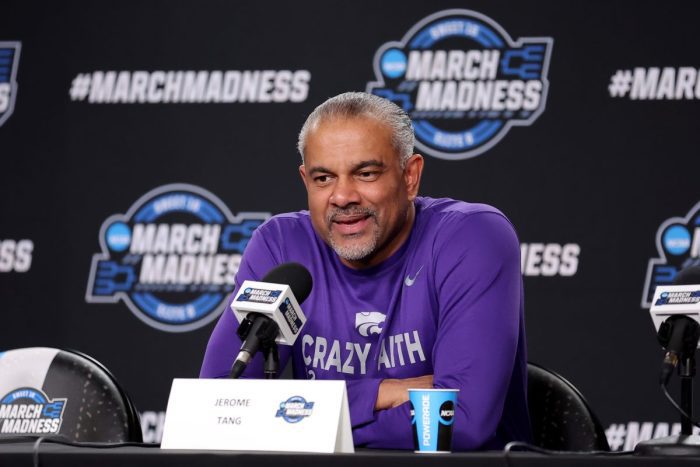 The Kansas State Wildcats are heading to the Elite 8 for the first time since 2018 after beating Michigan State 98-93 at Madison Square Garden in overtime.
The Cats are one of two Big 12 teams remaining the NCAA Tournament, joining the Texas Longhorns, who also reached the Sweet 16 and play Xavier on Friday night.
After the win, Tang was asked, "In a world of a football, the Big 12 has been trying to brand itself as a basketball conference, would you agree it's a basketball conference?"
The head coach responded by saying, "Yeah, I think we've been a basketball conference. The last four years we've had the No. 1 rating, and this year I thought we had 10 teams in our league that could play in the NCAA Tournament. This is not new. The last two national champions have been from our conference.
If it wasn't for COVID, I think it would have been the last three. And even if you back up one, Texas Tech losing in overtime, it could have been four in a row. We're the best basketball conference in the country, and the coaches in our league are Hall-of-Famers, and I'm just thankful to be even associated with any of them."
Here's the video:
Kansas State showing out on the biggest stage in basketball, a.k.a. The World's Most Famous Arena, with four players from New York City, including star Markquis Nowell, is the kind of storyline Brett Yormark couldn't have scripted if he tried.
The commissioner was in attendance on Thursday night, a New Yorker himself, who announced earlier in the day the Big 12 would be branching into New York City with a partnership with Rucker Park.
Once again, a perfect script.
Speaking of the commissioner, he had this moment with Nowell after the huge win at the Garden.
All in all, it was a perfect day for Big 12 basketball. And yes, this is the best league in the country.