Big 12 News
Joseph Yesufu the Fourth Jayhawk to Enter Transfer Portal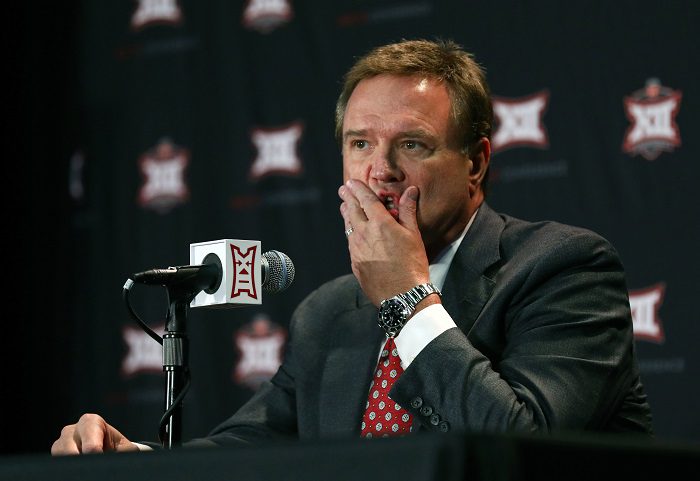 It's been a busy week of Kansas Jayhawks entering the transfer portal. Now a fourth in the last three days has done so, the latest guard Joseph Yesufu.
Yesufu joins forwards Cam Martin and Zach Clemence and guard Bobby Pettiford Jr. among those who have made the decision to ponder their future at a new destination following the top-seeded Jayhawks' stunning 72-71 upset loss to No. 8 seed Arkansas. Martin did so Tuesday, and Clemence and Pettiford Jr. did so Wednesday.
Yesufu appeared in all but one of Kansas' games this season, averaging 4.1 points and 1.2 rebounds while logging 12.7 minutes per game. That included a high-water mark of 14 points on three different occasions. Two of those came in back-to-back November games against Tennessee and Texas Southern. He also managed that feat against Texas later in the season.
The 6-foot, 180-pound guard scored in double figures four times total during the 2022-23 campaign. The other of those also came against Texas recently in the Big 12 Tournament, when he finished with 11.
Yesufu, who began his career at Drake, has averaged 5.8 points, 1.2 rebounds and 1.0 assists throughout his four-year collegiate career. His career-high in the scoring department came in 2020-21 in Des Moines, when he contributed with 12.8 points per game before transferring to Lawrence.
With Yesufu in the fold, the Jayhawks were favored to advance out of the West Region, slated to be played in Las Vegas, but they were unable to even get out of the first two rounds, held not that far away from home in Des Moines.
So now they'll look to next year. And they'll do so now without at least four players from this year's roster.