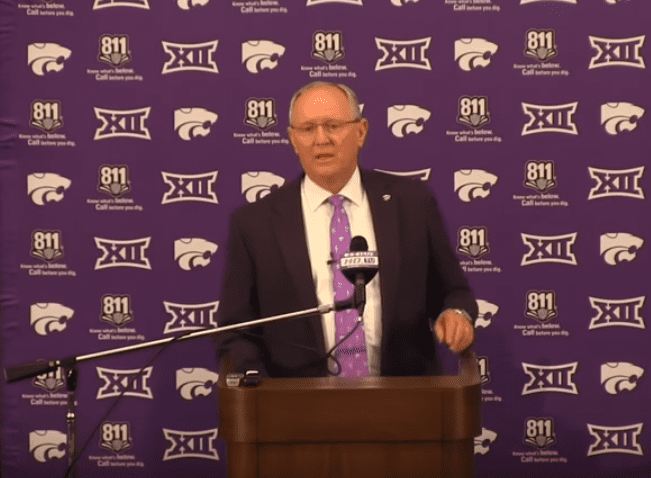 It is time to talk about K-State athletic director Gene Taylor. With K-State basketball advancing to the Sweet 16 in the NCAA tournament, Taylor looks like a superhero for taking a chance on head basketball coach Jerome Tang. In addition, with K-State football coming off of a Big 12 championship and an appearance in the Sugar Bowl, someone might as well buy Taylor some white tights, a purple cape, and a big "T" embroidered on his chest. If the NCAA awarded an athletic director of the year award based on the performance of the school's athletic programs, Taylor might be a shoo-in to win it.
K-State is the only school in the Sweet 16 of this year's NCAA tournament that also won their conference championship in football. That alone is quite an accomplishment, but when you consider that Jerome Tang is in his first year as the basketball coach and Chris Klieman is in his fourth year as the football coach, it is even more impressive. Is Gene Taylor some mastermind that knew what he had when he hired these two coaches, or was there a little luck involved along the way? I think it is probably a little bit of both.
I am a skeptic by nature, especially regarding coaching hires. Unlike some, I can separate my fandom from my commentary and analysis of the athletic programs and coaches. When Gene Taylor hired Chris Klieman, I was very critical of the hire. While Klieman had a lot of success at the FCS level, he had no division one coaching experience. It looked like Taylor, who was Klieman's athletic director at North Dakota State, hired his buddy to come coach at K-State. Boy, am I glad my initial impression turned out to be wrong. Klieman has greatly improved K-State in both recruiting and on the field and, as a result, has returned K-State football to prominence. Taylor deserves a lot of credit for taking a chance on Klieman. He knew what Klieman could do and surmised it would translate to the FBS level. Typically "promotions" such as these fail at a much higher rate than they succeed. If this one had failed, it was not only Klieman's job on the line but also Taylor's.
Some of the circumstances were the same with the Jerome Tang hire. Tang had no previous division one coaching experience and, despite being an assistant coach at Baylor for almost 20 years, never received the opportunity to run his own program elsewhere. Many in the K-State fanbase, myself included, wanted Illinois head coach Brad Underwood to get the job, but it was not to be. The skeptic that I am, even watching with a critical eye, I was willing to give Tang a chance and let things play out. When players started transferring out of the program like paratroopers jumping out of an airplane, I was very worried. Only two players stuck around from last year's team. Ish Massoud and Markquis Nowell. It seemed like forever and a day that Tang only had two players on his roster. How was he going to field a team in the fall?
Alas, slowly but surely, he started getting commitments from transfers. The highest profile of the bunch was Florida transfer Keyontae Johnson. I did not know very much about the players coming in or how they would gel together and be competitive, but I still had an open mind about it. Heck, if they just didn't finish dead last in the conference, I would have been okay with it in year one of his tenure. The coaching staff has connections to blue-chip recruits all over the United States, and the buzz around that started pretty early on. With that thought in the back of my mind, I was excited to see Tang's team compete.
It did not take long to realize that the team Tang assembled was going to be good. After a handful of games, I declared this K-State bunch an NCAA tournament team. They were THAT good early on. And I was right about them making the tournament. I did not predict the team going to a Sweet 16 or further, but these things are hard to predict until you see their seed and the draw. A third-place finish in the Big 12 and a three-seed in the NCAA tournament, and I am more than thrilled with how this basketball team has performed this season.
Gene Taylor must have realized that Tang was a good fit. (Honestly, where wouldn't he be a good fit?) And I am sure Tang told him about the assistant coaches he would hire and the connections that they have. Tang could have had this same success in many places, but Gene Taylor was the one who recognized the potential of this hire and made it happen. Did he expect a Sweet 16 appearance in the first year? I would guess not, so there is probably some luck involved from that perspective, but the future of the program looks very bright.
You cannot argue with the success of Chris Klieman and Jerome Tang, and you have to give credit where credit is due. Gene Taylor saw something in both men that told him both were a great fit in Manhattan, and he felt confident they would find success. It may have been a gut feeling more than anything else, but both hires have worked out tremendously well to this point. Kudos to Gene Taylor. You win the award for Athletic Director of the Year. It is a great time to be a K-State sports fan, and we have Taylor to thank for that.