Kansas State Wildcats
Tom Izzo on Loss to K-State: 'Some of Those Plays Weren't Big Plays, They Were Lucky Plays'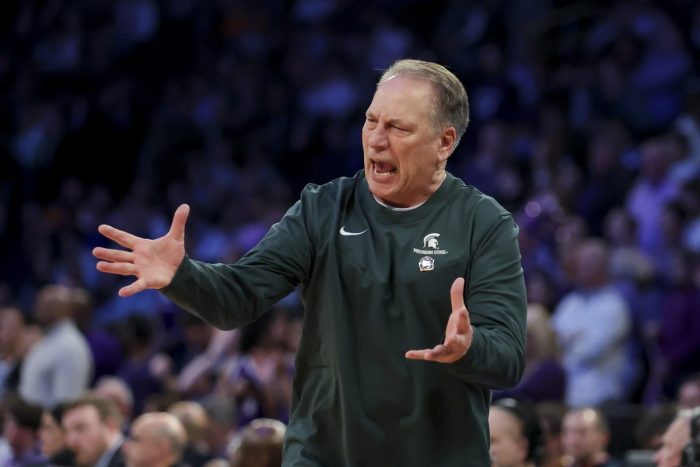 The Kansas State Wildcats are heading to the Elite 8 after an epic 98-93 overtime win against the Michigan State Spartans in what was the best game of the NCAA Tournament thus far.
After the loss, Michigan State head coach Tom Izzo was interviewed by Allie LaForce and gave K-State credit, but also used the word "lucky" to describe the Wildcats' night.
Izzo told LaForce, "I'm so proud of these guys for a lot of reasons. But I mean give them [K-State] credit, they banked in two shot-clock threes, they made some big plays. but some of those plays weren't big plays, they were lucky plays. I didn't think we played our best and I think some of it was them and some of it was us, but we bounced back in that second half. I've been part of a lot of wins and a lot of losses, but I've never been prouder of a team because we didn't really have it tonight, and we still found a way to battle back and I was proud of our guys."
Izzo was asked about how much pride he has in his guys, and he added in his answer, "They [K-State] did a nice job on their ball screens, that's a good basketball team, but a couple of those banked-in shots, you look at six points worth of that, that makes a difference in a game like this. Sometimes it's their night, and I've been on that side where it's been my night."
Here's the video:
Maybe so, but ask any team or coach who gets deep into the NCAA Tournament and there is always a lucky play here or there.
More important than the luck, was the epic performance from Markquis Nowell, on a bum ankle, breaking the NCAA Tournament record with 19 assists in the game.
But do not forget about Ismael Massoud. Fifteen points off the bench. Four 3-pointers. Every single one was big. The last field goal was Nowell's 19th assist, a baseline 12-footer that gave Kansas State a 3-point lead in the final seconds of overtime.
Those performances, along with the rest of the K-State team, played a bigger role than a couple of "lucky" shots, as Tom Izzo called them. But, whatever helps him sleep tonight.
Kansas State will play the winner of Tennessee/FAU for a chance to go to the Final Four.