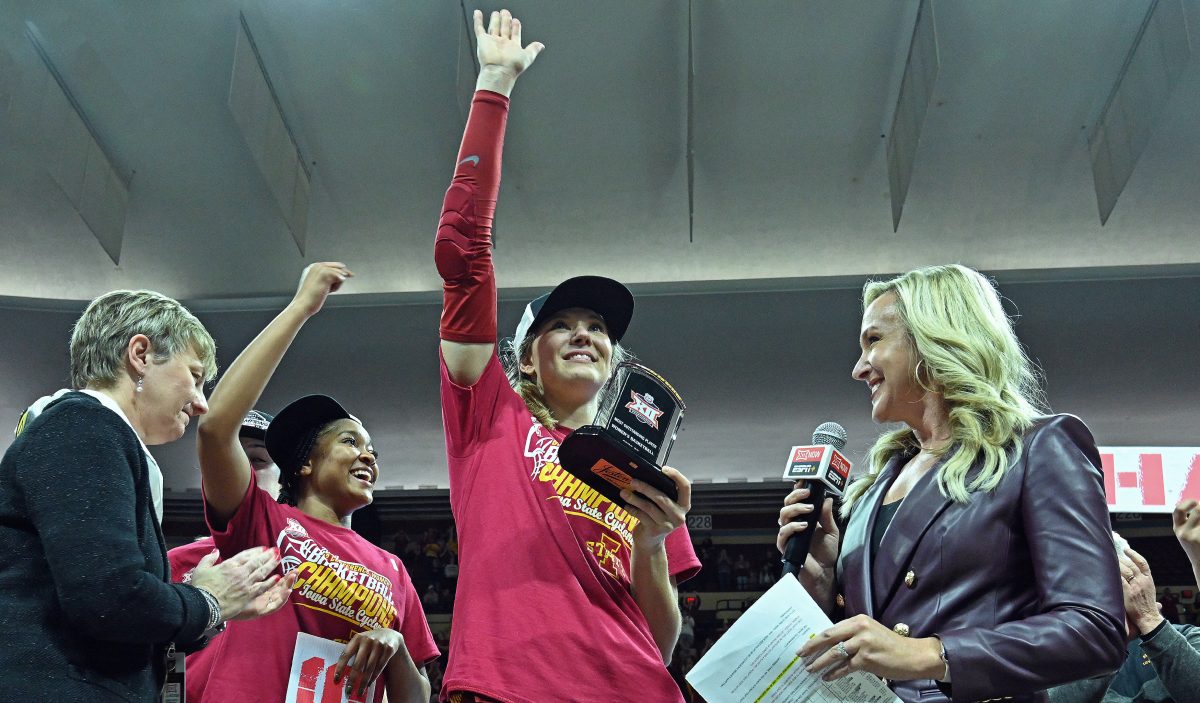 The Iowa State Cyclones finished 22-10 in 2022-23 in Big 12 women's basketball and here are five thoughts on the team and the future with the season concluded.
The Wrap
The Cyclones took in one big transfer in 6-foot-6 center Stephanie Soares. The Cyclones made a statement at the Phil Knight Invitational in beating Michigan State, but they couldn't follow that up with a win over North Carolina, ranked No. 8 at the time. Worse, the 13-point loss to Iowa in the Cy-Hawk exposed some deficiencies on defense that the Cyclones needed to shore up.
The win over then-No. 25 Villanova helped give the Cyclones a quality win to end non-conference. They entered Big 12 play with a 2-2 record against Power 5 schools and a 1-2 record against ranked teams.
In Big 12 play the Cyclones were off to a hot start, winning their first two games, entering a road game at Oklahoma on Jan. 8. That game changed the trajectory of the season. Soares tore her ACL, ending her season, and Iowa State had to revert to the way it played last season without her.
Easier said than done. The Cyclones had some good moments, including four straight wins after Soares' injury to end January. ISU followed that with a three-game losing streak to start February.
In Kansas City at the Big 12 Tournament, the Cyclones caught fire, riding the back of Ashley Joens to win three straight games and their first Big 12 Tournament title in more than two decades.
But Iowa State's season ended prematurely, falling in the first round of the NCAA Tournament to Toledo, where ISU coach Bill Fennelly coached before he went to lead the Cyclones.
The Leaders
As one might expect, Joens led the way in points (21.6) and rebounds (9.7) as she became the 14th player in NCAA history to score at least 3,000 points for her career. She basically owns the Iowa State record book.
Guards Lexi Donarski (12.1 points, 2.6 assists) and Emily Ryan (10.6 points, 5.4 rebounds, 6.4 assists, 1.8 steals) led the backcourt. Denae Fritz (8.8 points, 4.6 rebounds) was an All-Big 12 Freshman performer.
Forward Nyamer Diew (6.1 points, 4.1 rebounds) and Morgan Kane (5.9 points, 4.4 rebounds) got more playing time after Soares' injury. Soares played just 13 games, but she averaged 14.4 points and 9.9 rebounds.
Forward Izzi Zingaro and guard Maggie Espenmiller-McGraw rounded out the rotation, but both played less than 10 minutes per game.
Who's Leaving?
Going into the season the Cyclones knew they would be losing Joens, who was playing a fifth year on a COVID waiver. The Cyclones and Soares tried to get her an injury waiver for next season, but the NCAA turned her down. So she will try her hand at the pros. Forward Beatriz Jordão medically retired at midseason.
What wasn't anticipated was the suddenly revolving door of the transfer portal. Four players have declared since the season ended — Espenmiller-McGraw, Kane, Maggie Vick and … Donarski? Yes, the former Big 12 Defensive Player of the Year is in the portal.
That's seven players the Cyclones stand to lose after this season. So far.
Who's Staying and Who's Coming In?
Assuming no more transfers, the returnees include Diew, Fritz, Ryan, Zingaro, sophomore guard Mary Kate King and freshman Shantavia Dawkins, who was ISU's only 2022 signee. That's … gulp … six players.
Fennelly and his staff have a stacked class of incoming freshmen. The five-player class was ranked No. 10 by ESPN in the early-signing period. It includes 6-foot-3 forward Jalynn Bristow (Rider HS, Wichita Falls, TX), 6-foot-2 forward Addy Brown (Derby, Kan.), 6-foot-3 center Audi Crooks (Bishop Carrigan HS, Algona, Iowa), 5-foot-8 guard Arianna Jackson (Roosevelt HS, Des Moines, Iowa) and 5-foot-9 guard Kelsey Joens (Iowa City, Iowa). Brown, Bristow and Crooks were ranked as Top 60 players.
Right now the Cyclones look like they have some room to maneuver in the transfer portal or to get a late 2023 signee.
What's Next?
Lock the transfer portal so Ryan doesn't get out? Keeping the third-year point guard in Ames looks like top priority for Fennelly and company in putting together next year's team. Expect a lot of player development this summer. Ryan is a lock to start. Fritz should start based on this season's body of work. Beyond that, everything will be fighting for playing time. That includes the freshmen and any players the Cyclones lure through the portal. We knew that things were going to change in Ames. We just didn't know THIS much would change.
You can find Matthew Postins on Twitter @PostinsPostcard