Big 12 News
Iowa State Women's Basketball Star Lexi Donarski Enters Transfer Portal: Report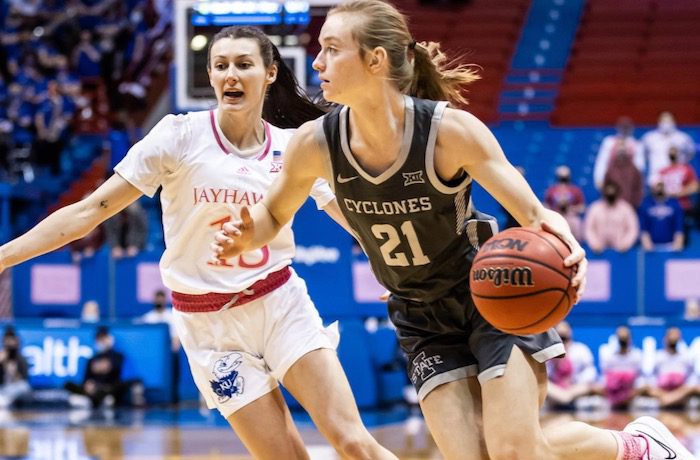 Some really surprising news has surfaced out of Ames, Iowa on Friday afternoon, as Iowa State veteran guard Lexi Donarski has entered the transfer portal, according to a report from the Des Moines Register. It's obviously the largest loss the Cyclones have suffered in the transfer portal.
That's because Donarski has been a three-year starter and lockdown defender for the Cyclones. In so doing, she's averaged 13.2 points and 3.2 rebounds per game while making 95 career starts.
One of those was recently in helping Iowa State win the Big 12 Championship over Texas.
"Yeah, I don't know if anything has necessarily changed, but we are playing well and we're playing together and we're willing to fight and do whatever we need to do to win games," Donarski said that afternoon. "And if you look at the last three games we played, all of them were very different and we had to do things defensively against each of those teams, and we just bought into the game plan the coaches gave us and we were able to come up with the wins we wanted."
However, the buck stopped there for the Cyclones, who were shockingly bounced by Toledo in the first round of the NCAA Tournament. They fell 80-73 to the Rockets, ending their season at 22-10.
But it wasn't for a lack of Donarski's production. She finished with 13 points on 5-for-12 shooting, to go along with seven rebounds in a healthy 37 minutes. That served as a very small fraction of her team-second-best 387 points on the year, as she averaged 12.1 points, 2.9 rebounds and 2.6 assists per contest in addition to her defensive prowess.
Now we'll all wait and see what the former McDonald's All-American decides to do with her future. Someone will certainly be getting the services of a great player.