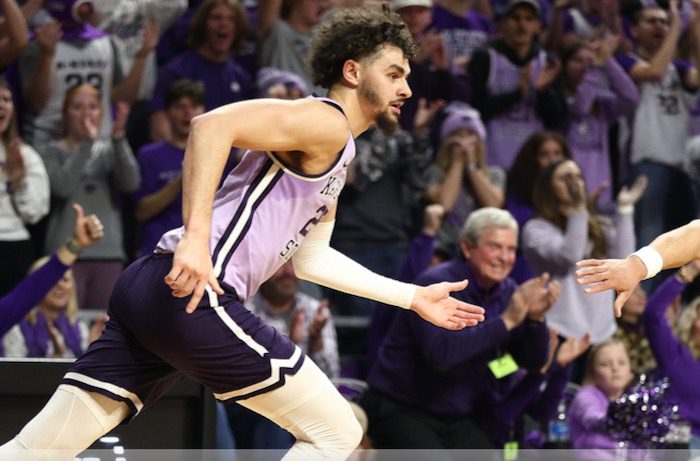 The Kansas State Wildcats are in midst of an incredible run, advancing to the Elite Eight with a thrilling 98-93 overtime victory over Michigan State Tuesday evening. It's a run everyone on the Wildcats is soaking in, including forward Ish Massoud, who has fallen in love with his new home.
"Just it has a great history," Massoud said Friday in advance of the 'Cats' matchup against ninth-seeded Florida Atlantic for a berth in the Final Four. "Kansas State plays in the best league in the country. And just the history of the school, it's a great university, first and foremost. And then Manhattan, Kansas, is one of the happiest places on earth. Just being around that environment, seeing the Octagon of Doom and just the opportunity it presented for me to come out and just have a new home, and it was something I couldn't pass on."
Before last season, Massoud transferred to Kansas State from Wake Forest. And he quickly became a key cog and certainly is a major one for the 'Cats in their dance to within one game of college basketball's ultimate stage
Massoud is averaging 5.5 points and 1.7 rebounds in 15.3 minutes per game off the bench. That included a healthy 15 points and couple of rebounds in 27 minutes in the huge triumph over the Spartans. He hit 5-of-8 shots from the field and obviously was a tremendous boost.
Throughout his career, Massoud is averaging 6.2 points and 2.4 boards per contest. He and the rest of the Wildcats will tip off against the Owls.