Trending Now
Memphis Women's Basketball Player Charged After Altercation in Handshake Line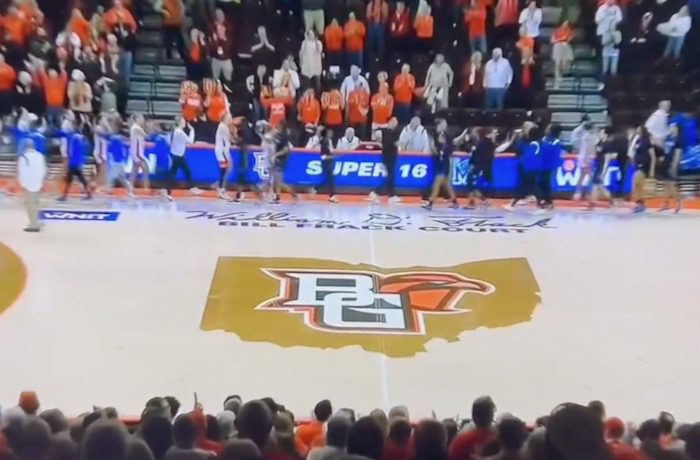 Memphis Tigers guard Jamirah Shutes has been charged with assault for her role during a physical altercation in the handshake line after the conclusion of the Memphis-Bowling Green game in the Women's National Invitation Tournament. Things got chippy, with Shutes punching the Falcons' Elissa Brett, causing her to fall to the floor after the Tigers' 73-60 setback.
"Following Thursday's unwarranted physical incident after the WNIT home game, the Bowling Green State University Police Department has charged a member of the Memphis Women's Basketball team with assault," the Bowling Green Athletics Department started in a statement. "Additionally, BGSU Athletics is conducting its own review. Violence is never acceptable and our priority remains the health, safety and support of our student-athlete, who is recovering and doing well. This is an active investigation in conjunction with the City of Bowling Green Prosecutor, and no further comment is available at this time."
In the video below, you can see the punch while teams were shaking hands following the contest.
Shortly thereafter, Bowling Green released a statement on the altercation, saying that the incident will be handled by campus police.
"The incident that took place following tonight's home WNIT game has been turned over to the BGSU Police Department," the school said. "Bowling Green State University Athletics does not make comments about active police investigations. Our priority is with the health, safety, and support of our student-athletes."
Memphis' athletic department released a statement of its own on Friday, saying that the incident was "extremely unfortunate and certainly not consistent with, or representative of, our expectations for our programs and student-athletes."
"Because the incident occurred after the game, jurisdiction falls in the hands of local authorities, and we are cooperating fully with their process," the statement said. "To be respectful of that process, we will not comment further until it is complete."
This marks the second time this week the postgame handshake and not the actual result of the game stole headlines after the conclusion of a women's college basketball contest. Earlier this week, things got heated between Louisville's Hailey Van Lith and Texas' Sonya Morris, overshadowing the Cardinals' dominant performance against Texas in Austin.