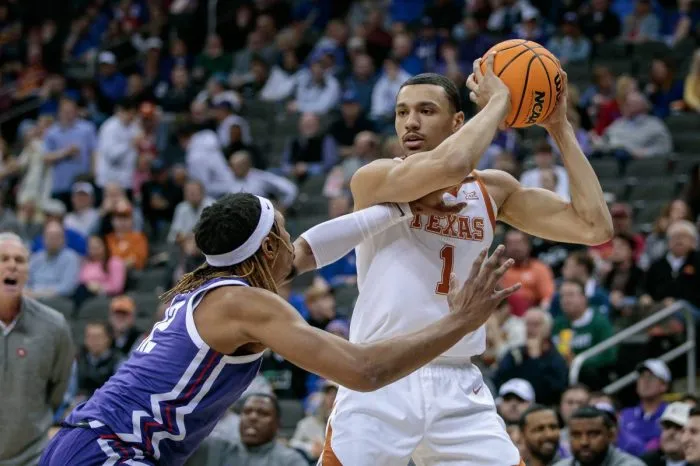 Texas forward Dylan Disu left Friday's game with Xavier in the NCAA Tournament with a foot injury he re-aggravated just 90 seconds into the game.
Disu and the Longhorns were playing the Musketeers in the Sweet 16 Round of the NCAA Tournament at T-Mobile Center in Kansas City.
Before the game, CBS reported that Disu suffered a left foot injury that caused him to be unable to complete practice on Thursday. He had an MRI on the foot and it was determined he had a bone bruise. He did warm up for Friday's game, but was in some obvious discomfort, as documented by Austin-based television station KVUE.
Disu started the game and played about 90 seconds. On a play underneath the basket, Disu went up for a rebound and was hit in the head by the hand of his teammate, Dillon Mitchell. But, on the play, he aggravated the bone bruise and left the game for the locker room.
Disu returned to the bench with a walking boot on the foot. Texas ruled him out for the game.
Disu has come alive the past few weeks for Texas. He averaged 22.5 points and 10 rebounds in the first two rounds of the NCAA Tournament, shooting 71 percent from the floor.
In the win over Penn State, he put together his best game of the season, scoring 28 points and grabbing 10 rebounds.
He set the Texas NCAA Tournament record for most field goals made in a game (14), topping Kevin Durant.
Disu started his run of great play at the Big 12 Tournament in Kansas City two weeks ago. He was the Most Outstanding Player of that tournament. There, He averaged a team-best 14.7 points and 8.3 rebounds in three games, while shooting 74 percent from the floor. Right now, the Texas offense flows through him.