Big 12 News
Jerome Tang Went Into the FAU Locker Room After Losing to Owls in the Elite 8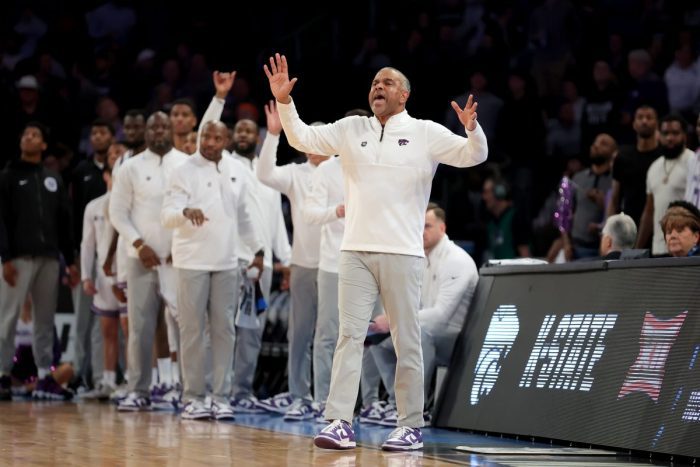 They don't really make 'em like Jerome Tang anymore. After Tang's team lost to the FAU Owls in the Elite 8, Tang went to the FAU locker room to congratulate Dusty May's squad and called them the "toughest team" his squad had faced this season. That's saying something after playing a grueling season in the Big 12 Conference.
Here's a photo of the moment from Getty Images.
This is just another example of what makes Jerome Tang special. He legitimately practices what he preaches about being a leader of men and a man of faith.
In his post-game press conference following the loss, Tang added, "First of all, I just want to thank my lord and savior, Jesus Christ… If we can't be grateful in these times, then all the love and joy that we talk about is fraud and we're not frauds. I want to give FAU and coach a lot of credit. They did a great job. They were tough. They were together. They made big shots. They won the game. This hurts right now, but I wouldn't trade these players for 10 others, or 20 others."
Kansas State (26-10) was seeking its first Final Four appearance since the Wildcats went to the Final Four in 1964, but came up short in the 79-76 loss to the Owls. The Wildcats had been to the Elite Eight in 1972, 1973, 1975, 1981, 1988, 2010 and 2018. All of those teams fell short of ending the Final Four drought, and unfortunately, it continued on Saturday night.
But something positive that K-State fans can hang their hat on is that this does not appear to be a fluke for Tang and his staff. The Cats had just two players returning from the 2021-22 season and in his first season, Tang got these guys to buy in, and exceed anyone's wildest expectations, as they were picked to finish last in the Big 12 Conference.
The future is bright in Manhattan.