Trending Now
Jim Phillips Says ACC Set to Meet to Change Basketball Narrative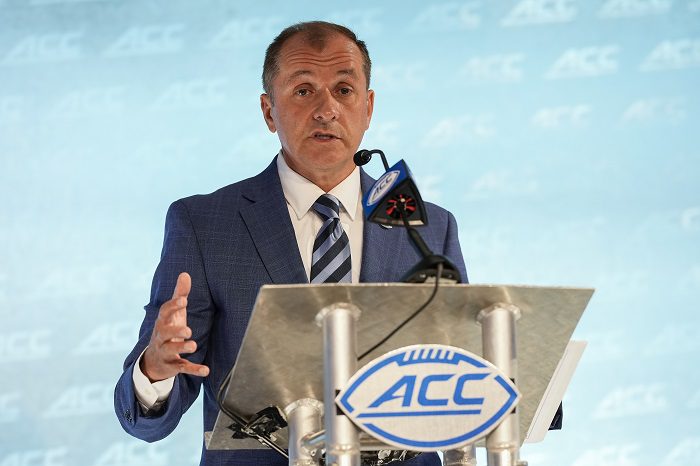 The Atlantic Coast Conference sent only five teams to the NCAA Tournament this year, and that has commissioner Jim Phillips thinking of ways he can elevate his league. Following the conclusion of the season, he's set to meet with the conference's coaches and athletic directors about ways to be more "proactive" and "aggressive" to change the narrative surrounding the league, he told ESPN Saturday.
"We have to portray ourselves in a different way, and maybe it's our scheduling, maybe it's our providing information back to the committee, but we're going to be aggressive in how we look at it — but we're also going to be proactive," Phillips said to ESPN. "We feel the narrative hasn't been quite right the last two years. We're going to try to do something about that in the offseason.
"I get it, I've been on the men's selection committee. I've been on the women's committee. It's a hard assignment, and so we're going to try to make it easier for them from an ACC standpoint to make sure we're structured and set up in a way where we will have more teams in the tournament in the future based on merit."
Part of Phillips' frustration is centered around the fact Clemson and North Carolina were not invited to the NCAA Tournament. He's quite adamant both deserved bids.
Perhaps Miami taking down top-seeded Houston serves as some credence to his belief. The Big Ten and SEC both received eight bids, more than the ACC, and neither sent a team to the Elite Eight, while the ACC obviously did.
We'll have to see how it all turns out with the meeting. But the league is very concerned about the perspective surrounding it.