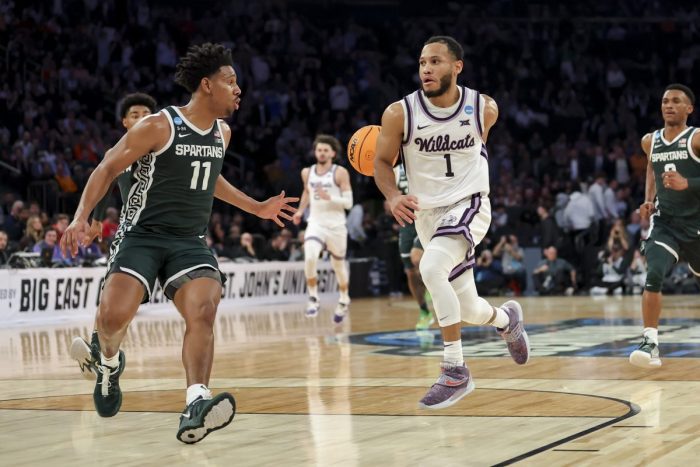 Here is everything you need to know about the Kansas State Wildcats and the Florida Atlantic Owls in our NCAA Tournament Elite 8 men's basketball preview and prediction.
NCAA TOURNAMENT
Kansas State (26-9) vs. Florida Atlantic (34-3)
East Region – Elite Eight
Game Info: 5:09 p.m. CT, Saturday, TBS
How They Got Here: Kansas State took down the Michigan State Spartans 98-93 in the Sweet 16, while FAU upset No. 4 seed Tennessee, 62-55, to advance.
Winner gets: A spot in the Final Four to take on the winner of the South Region.
PROJECTED STARTING LINEUPS
Kansas State: G Markquis Nowell, G Cam Carter, G Desi Sills, F Keyontae Johnson, F Nae'Quan Tomlin
FAU: G B.J. Greenlee, G Nicholas Boyd, G Alijah Martin, G Johnell Davis, C Vladislav Goldin
PLAYER TO WATCH
KANSAS STATE
G Markquis Nowell: I mean, who else can go here after the Swet 16 performance of a lifetime? Nowell's 19 assists on Thursday night set an NCAA tournament record as he willed the Wildcats to a 98-93 overtime victory over Tom Izzo's Spartans. Nowell seemed to take things to another gear in front of his hometown crowd, and being in MSG again on Saturday night will likely mean another standout performance from the senior point guard. If Nowell can distribute the ball and score like he did against Michigan State, the Wildcats will find themselves in the Final Four. As the best player on Jerome Tang's squad, Nowell can take over games at this point in the tournament, and that is difficult to stop once he gets rolling.
FLORIDA ATLANTIC
G Johnell Davis: The sophomore point guard has had a terrific tournament and leads the Owls into this game after a couple of big performances. Against Fairleigh Dickinson, Davis became the first player in NCAA Tournament history to produce a stat line of 29 points, 12 rebounds, five assists, and five steals. Against Tennessee, Davis had 15 points and six rebounds. When FAU needs a bucket, the ball will be in Davis' hands, as he leads the team with 13.9 points and 5.4 rebounds per game. Davis is also a great defender, averaging a team-high 1.5 steals per game.
KEY STORYLINES
KANSAS STATE
How does Kansas State follow up such an amazing performance against Michigan State? The entire basketball world was entranced by the Wildcats on Thursday night. Four players on K-State's roster are playing in front of a home crowd at Madison Square Garden, and three of them (Nae'Quan Tomlin, Ismael Massoud, and Markquis Nowell) combined for 46 points, 12 rebounds, 22 assists, and six steals. Getting another big performance from that group would go a long way in getting the Wildcats to the Final Four, something the program hasn't done since 1964. Does Markquis Nowell have one more magical night in MSG left in him, and is the ankle 100%? All things to consider heading into this massive contest.
FLORIDA ATLANTIC
Florida Atlantic will look to come into this game and establish one of the nation's most efficient offensive attacks. The Owls score 112.6 points per 100 possessions, making them a top 15 team in terms of offensive efficiency. FAU shoots 46.7% from the floor and ranks 12th nationally with 9.7 three-pointers per game. Florida Atlantic ranks 24th nationally in effective field goal percentage (.548) and 18th nationally in rebounds per game (38.9). This team isn't 34-3 by accident; the Owls are efficient offensively and defensively, ranking 26th and 29th in adjusted offense and defense respectively, according to KenPom. In fact, FAU is ranked 17th overall in KenPom, four spots ahead of Kansas State at No. 21.
PREDICTION
KANSAS STATE 78, FLORIDA ATLANTIC 73
It might not live up to the last game that we watched, as the K-State vs. Michigan State contest will go down as the best game of the tournament. However, the Wildcats and Owls will play a close one on Saturday night, with Jerome Tang's group punching their ticket to Houston. K-State will be playing in front of a de facto home crowd after Thursday night's events. Markquis Nowell and Keyontae Johnson are the two best players on the court at any given time in this game, and that will be just a bit too much for FAU to overcome.