Big 12 News
Markquis Nowell Becomes First Player with 50-Plus Assists in NCAA Tournament since 2005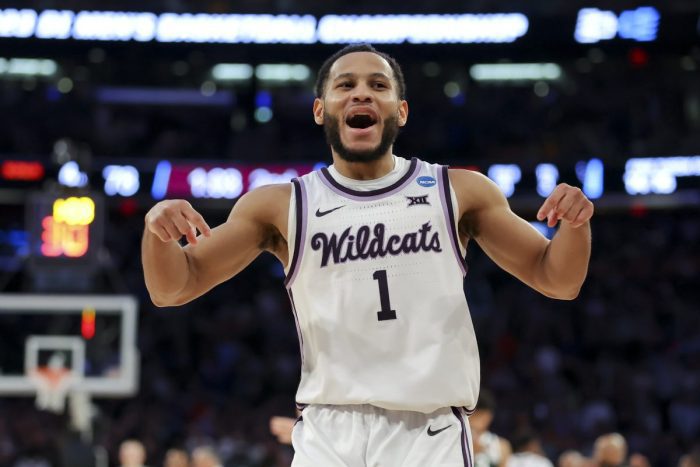 Markquis Nowell continues to be in a league of very few, as this NCAA Tournament rolls on. In Saturday evening's Elite Eight contest against Florida Atlantic, the Kansas State Wildcats guard became the first player to eclipse the 50-assist mark in the Big Dance since Illinois' Deron Williams in 2005.
That's fresh off an NCAA Tourney-record setting 19-assist performance in the Sweet 16 against Michigan State.
Nowell has quickly become one of the most liked players in the NCAA Tournament, given the electricity he's performed with. And standing in at all of 5-foot-8 and 180 pounds, the star point guard continues to take in all of the festivities, stopping by with some young fans to take a selfie. It's obviously a special moment they'll always remember.
And before all this, head coach Jerome Tang put Nowell in some special company. He compared Nowell to Kansas City Chiefs two-time Super Bowl Champion Patrick Mahomes.
"What allows him to be such a great passer, it's his confidence," raved head coach Jerome Tang about his point guard in advance of his team's Elite Eight matchup with No. 9 seed Florida Atlantic. "He has great vision, but he also has this confidence. Kind of like Patrick Mahomes and Aaron Rodgers, they think they can like thread that ball through anywhere. And he really feels like he can get it there, so he has this great precision, this great confidence and vision that he was blessed with."
"The smile on my face, we talk about winning in interviews all the time," Tang continued. "And to talk about your why, whether it's your family, your faith, whatever it is, talk about your why, then it's about your teammates. And then finally, then talk about yourself or how you were able to contribute to what happened in that game.
"He went in order. He talked about his why, and then he talked about his teammates, and it's just really cool to see guys grow and develop in that aspect."
Nowell is now trying to send the Wildcats to the Final Four for the first time since 1964. They're 0-7 in their last seven trips to the Elite Eight.