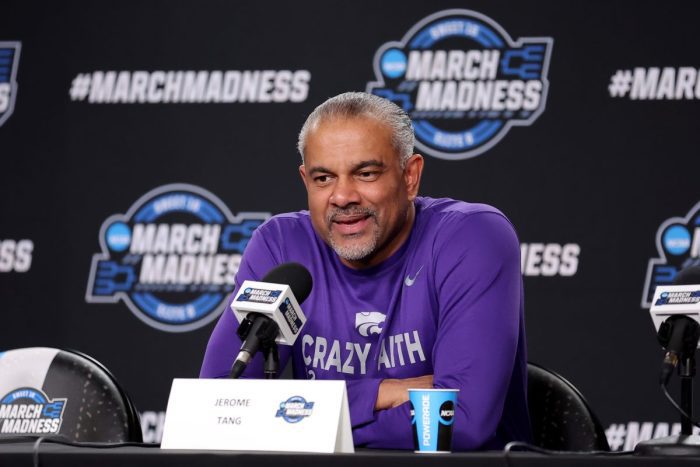 Jerome Tang has proven to be one-of-a-kind head coach in his first season on the job. He wears his faith on his sleeve, bring an optimistic outlook every day, and took a team that was picked to finish last in the Big 12 Conference this season to an Elite 8.
Unfortunately for the Cats, their magical season came to an end in New York City against FAU, who beat Kansas State 79-76 on Saturday night. But moments after Kansas State lost the game, video of Coach Tang greeting every staff member and player telling them "head up!" surfaced, courtesy of KCTV5 Kansas City's Jared Koller.
Jerome Tang helped put Kansas State back on the map with this NCAA Tournament performance, and not just because of what his team did on the court as the No. 3 seed in the East Region.
Whether it was his viral comments about having "more dudes" than Kentucky did last week, talking about how the Big 12 was the best basketball conference in America this season, or his continued promotion of his "crazy faith", Tang has become an incredibly successful ambassador for the Wildcats in his first season on the job.
Despite the heartbreaking loss to end the season, there is so much to be proud of with this program. Jerome Tang was able to put this group together in just a couple of months after taking the job and only returning two players from the 2021-22 season. He elevated Kansas State and put them on the map, arguably in a way they have not been before, thanks to his unique charisma and ability to be a true leader of men, both on and off the court.
There's no doubt, K-State's basketball program is in great hands for the foreseeable future.