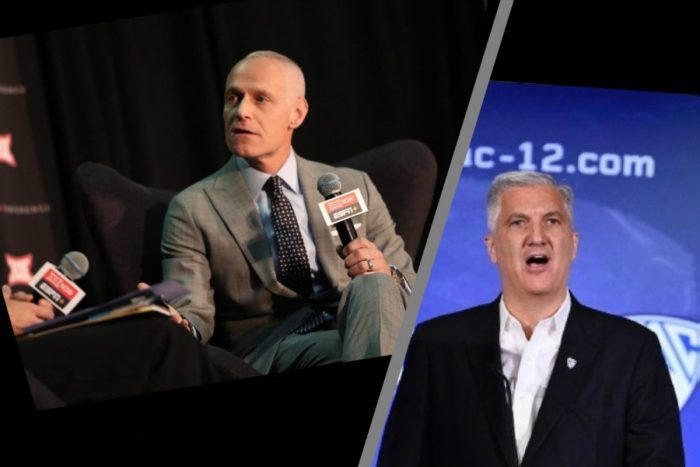 What's going on in the Big 12 and beyond? I expand and explain every Sunday in Postscripts at Heartland College Sports, your home for independent Big 12 coverage.
This week, did Big 12 basketball just get young and hip? Plus, more on the Pac-12 and is an ESPN basketball personality trying to influence conference realignment?
The Brilliance of the Rucker Park Move
Big 12 commissioner Brett Yormark has made it clear he wants to make the league a national conference. He also wants it to be "younger and hipper." There are a lot of different ways to accomplish that.
But Thursday's announcement of a partnership between the Big 12 and New York City's Rucker Park was a masterful move.
This summer, assuming the NCAA approves, the Big 12 will put on a coaches' clinic at Rucker Park and then play some exhibition games there. The NCAA approval is more important for the latter.
The Big 12 could have done this many different ways. The traditional route would have been for the Big 12 to partner with Madison Square Garden or Barclays Center and do the same thing. And, honestly, there would have been nothing wrong with that.
But partnering with Rucker Park creates buzz. For those that don't know, Rucker Park is in Harlem. It's the epicenter of street ball. It hosts the Rucker Tournament every year. If someone played basketball in New York City as a kid and went on to play in major college basketball or in the NBA, they probably played there at some point.
The late Kobe Bryant played in the Entertainer's Basketball Classic in 2002. He felt it legitimized him as a basketball player.
This is where basketball street cred was born.
THIS is why the Big 12 is partnering with Rucker Park. If you're trying to find a parallel, think of Major League Baseball playing a regular-season game at the Field of Dreams field in Dyersville, Iowa.
Yormark wants this conference to live at the corner of entertainment and sports. There's no better place to do that in basketball than in Rucker Park, even if the closest Big 12 program is in West Virginia.
Will this partnership actually move the needle for the conference? Well, that's hard to say because no one's really tried anything quite like this before.
But, by partnering with Rucker Park and not a more traditional New York City venue, Yormark and his Big 12 colleagues made what might have been a summer filler event unignorable.
And that's the brilliance of partnering with Rucker Park. And it's why our Pete Mundo wrote and podcasted on Friday about how that Thursday changed the Big 12 for good — and not just because of the Rucker Park deal.
This Week in 'As The Pac-12 Turns'
After a week of Pac-12 presidents taking the mic, it was time to get down to business. Right?
Well, let's lead off with Apple, which appears to be one of the sides negotiating with the Pac-12. But a deal might take a while, as Apple appears to be in no rush.
University of Utah president Taylor Randall said on Salt Lake City radio that media rights talks "still got a ways to go," and the Apple report backs that up. Still, he said, the remaining 10 teams are moving in the right direction.
Or are they? The New York Post's well-connected media reporter Andrew Marchand talked about the situation on his podcast, saying that the league is in a dicey situation. From the report:
"ESPN's not close to a deal with the Pac-12," Marchand said. "Amazon is interested, but only at their number and I'm not getting a feeling that something is imminent with them. Apple is someone we've mentioned, I wrote a story a couple of weeks ago, as a possibility. [Apple] does, sort of, seem to fit into what they want to do."
All of that was pretty consistent for the week. Pac-12 leadership was supposed to meet on Tuesday but met the following day. That leadership reportedly got a "positive report," but there's no deal to vote on yet.
But there was one new nugget this week. Oregon radio host John Canzano had Fox back into negotiations with the Pac-12. Several reports refuted it.
Where we go from here is anyone's guess. Oh, and not a word about expansion, which in my opinion is what this league really needs to improve its TV value.
Did Fran Get Cryptic?
ESPN announcer Fran Fraschilla isn't as busy as he usually is, though he will call the NIT semifinals next week in Vegas. But he's watching the NCAA Tournament, and the analyst that knows the Big 12 better than anyone was certainly watching San Diego State beat Alabama on Friday.
Well that's … something.
As you know, the Big 12 is openly discussing the idea of Gonzaga joining the Big 12 for basketball. During the Big 12 Tournament Yormark indicated it wasn't a front-burner item at that time. I took that as a nod that he's watching the Pac-12 situation closely. But it's been two weeks and that's like dog years in college athletics right now.
We know he wants to expand for basketball. He sees Gonzaga as a target. He also sees the eastern seaboard as a target (read Big East).
San Diego State should be on the board, too. The football team can be inconsistent. But Fran is spot-on about the basketball team. The Aztecs are a consistent Top 25 outfit and before Sunday they were on the verge of the Final Four.
Gonzaga could use a travel buddy. Just sayin'. Apparently so is Fran.
You can find Matthew Postins on Twitter @PostinsPostcard