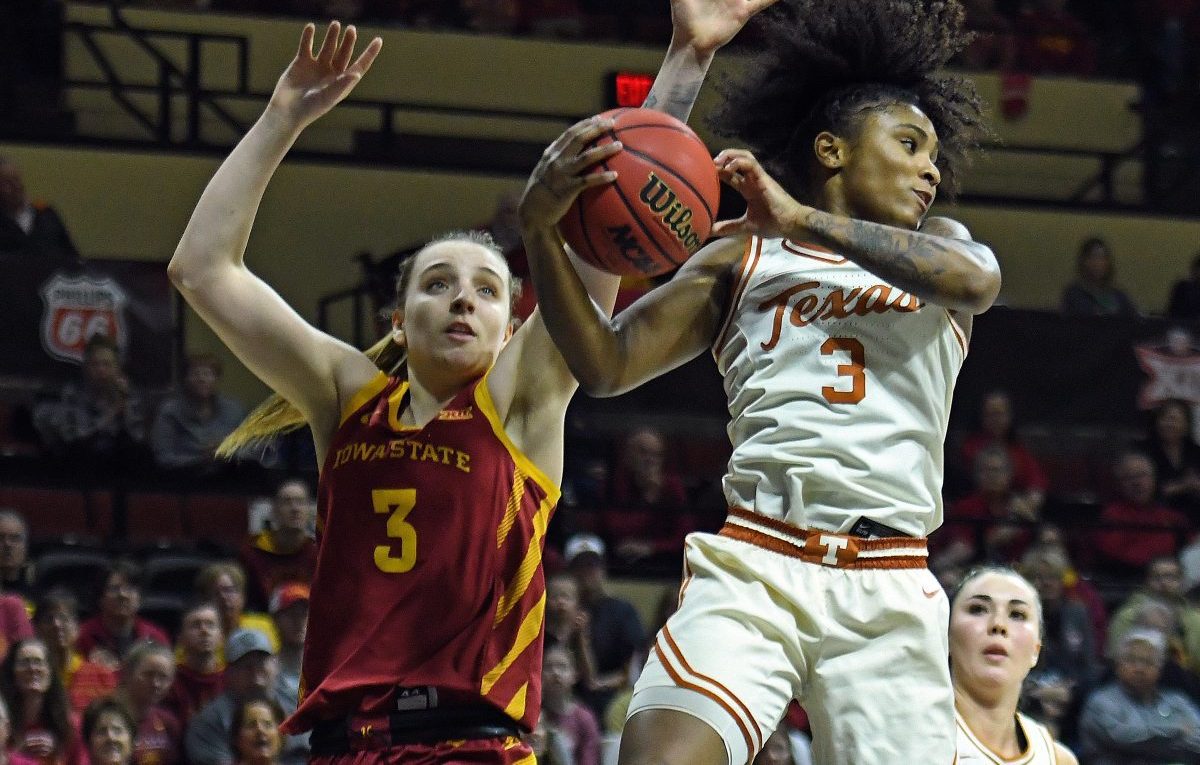 The Texas Longhorns finished 26-10 in 2022-23 in Big 12 women's basketball and here are five thoughts on the team and the future with the season concluded.
The Wrap
The Longhorns won their final six games of non-conference, but that stretch was also a feast on low- and mid-major teams. The one good win was over USC in Dallas.
Before that? Texas was a mess of injuries and inconsistent play. Guard Rori Harmon missed time to start the year, followed by transfer forward Taylor Jones. Then, Texas lost forward Aaliyah Moore in the middle of non-conference to a torn ACL. It all added up to a 3-4 start, with Texas losing to UConn, Marquette, and Louisville in a three-game stretch. The Longhorns also fell to USF at home.
In Big 12 play, Texas started uneven, going 4-2 in its first six games, with losses to unranked Oklahoma State and Texas Tech. After that, the Longhorns seemed to straighten out. Texas won seven straight and nine out of 10 to assume the top spot in the Big 12. Ultimately, a loss at home to Baylor on Feb. 27 put the Longhorns in a tie for the Big 12 lead with Oklahoma and the pair shared the regular season title.
Texas advanced to the Big 12 Tournament title game where it lost to Iowa State. It didn't cost Texas a home sub-regional. But, for the first time in coach Vic Schaefer's three-year tenure, the Longhorns didn't advance to the second weekend of the NCAA Tournament. After Texas handled East Carolina easily, the Longhorns were dominated by Louisville in the second round.
The Leaders
Texas had five players that finished in double figures in scoring, but only four finished out the season. Transfer Shaylee Gonzales led with 12.7 points (she also had 4.3 rebounds and 2.7 assists). She also handled the point when Harmon was hurt.
Forward DeYona Gaston averaged 12.1 points and a team-leading 5.8 rebounds. She emerged as the Longhorns' top forward option, especially after Moore was hurt.
Guard Sonya Morris, another transfer, battled injuries late in the season and missed six weeks. Still, she averaged 11.4 points.
Harmon, who like Gaston was an All-Big 12 First Team selection and the league's Defensive Player of the Year, averaged 11.2 points, 5.3 rebounds, 7.4 assists, and 2.3 steals.
Moore, who only played nine games, averaged 11.2 points before her injury.
Jones played only 20 minutes per game and averaged 9.5 points, 5.7 rebounds, and a team-leading 2.3 blocks per game.
The injury to Morris put Shay Holle back in the starting lineup late in the season and she averaged 5.9 points.
Forward Khadija Faye, guard Ndjakalenga Mwenentanda, and forward Amina Muhammad all played platoon roles, either in the starting lineup or off the bench.
Who's Leaving?
The Longhorns had three seniors or graduate students on the roster — Gonzales, Morris, and guard Anissa Gutierrez.
Gonzales announced that she intends to return for another season, triggering her COVID waiver. Morris has played five years and may be out of eligibility. Gutierrez has a waiver to use if she wants.
Guard Kyndall Hunter, a member of the 2021 Texas recruiting class, has left the program and is in the transfer portal.
Who's Staying and Who's Coming In?
Let's assume Gutierrez returns, along with Gonzales. These Longhorns also have eligibility remaining — Harmon, Gaston, Holle, Muhammad, Faye, Moore, Mwenentanda, Jones, freshman guard Jordana Codio, freshman guard Gisella Maul (who enrolled early at Texas after signing in November and suffering an injury during her senior year of high school), freshman guard Sarah Graves and junior center Femme Masudi. That's 14 players on the roster.
Plus, Texas took in two more recruits, and, naturally, they're highly thought of in ESPN circles. Abbie Boutilier, a 6-foot-9 forward from Flower Mound, Texas; and Madison Booker, a 6-foot-1 forward from Ridgeland, Miss., were all rated as Top 40 players by ESPN.
Boutilier is the tallest player Texas has ever signed. Booker is a five-star player (so was Maul, by the way). This is the norm with Schaefer as the head coach.
So, 16 players? Texas is probably done with player acquisition, barring more transfers out.
What's Next?
Texas needs a bucket-getter. When it loses, it's because its offense short-circuits because they don't create turnovers (the Louisville game is a great example). That could be Gonzalez. That could be Harmon. That could be Gaston. That could be Moore when she returns from injury. But the answer is going to have to come from within.
Talent-wise, this team is stacked. You know the system isn't changing. The young talent will compete for playing time. And, Holle needs a starting role next season. It seems whenever she's in the lineup with Gaston and Harmon, good things happen. Texas looks like a team that could win the Big 12 on its way out the door to the SEC.
You can find Matthew Postins on Twitter @PostinsPostcard