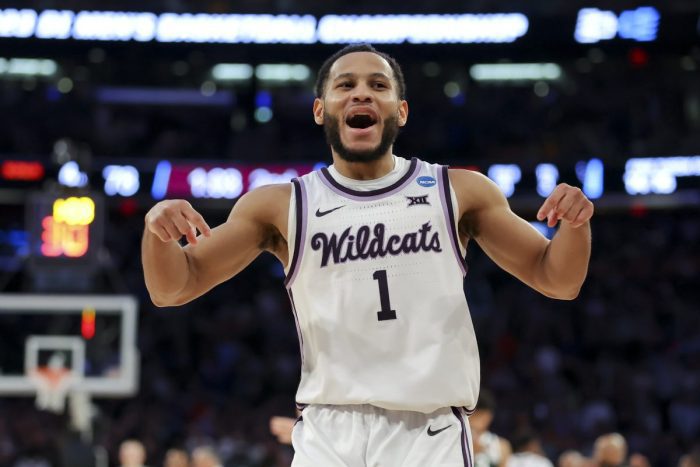 The Kansas State Wildcats finished the 2022-23 season 26-10 and reached the Elite Eight of the NCAA Tournament. Here are five thoughts on their season.
The Wrap
A year ago right around this time, Jerome Tang had his first head-coaching job, tapped to take over at Kansas State. A short time later, he had two players — Markquis Nowell and Ismael Massoud.
Tang spent the summer rebuilding the Wildcats with transfers and a few recruits. One of the last transfers was Keyontae Johnson, a forward who hadn't played in two seasons after a medical episode at Florida.
What happened? Have you not been paying attention?
The Wildcats won all but one non-conference game, with the loss to Butler on the road. Unranked entering Big 12 play, the Wildcats won their first four contests before falling to TCU on the road.
Then, came overtime at home against Kansas on Jan. 17, an 83-82 victory. There was Tang standing on the scorer's table turning an "F-K-U" chant into a "K-S-U" chant, his players by his side.
And the magic carpet ride began. No, Kansas State didn't win the Big 12 regular-season title. Yes, the Wildcats had a bumpy stretch to start February, losing four out of five before a five-game winning streak to secure a No. 3 seed at the Big 12 Tournament. Yes, the Wildcats lost in the quarterfinals to TCU.
But the NCAA Tournament game and Nowell, Johnson, and the rest of the Wildcats took the program to the Elite Eight for the first time since 2018. Along the way Nowell had one of the greatest individual tournaments in memory, wrapping it up in his hometown of New York City at the show palace of basketball, Madison Square Garden.
Yes, the Wildcats fell short of the Final Four. But, still. Not bad for a bunch of dudes.
The Leaders
While Kansas guard Jalen Wilson was the unanimous Big 12 Player of the Year, as named by the coaches, Heartland College Sports named Nowell it is Player of the Year. He had a great argument. He averaged 17.6 points, 3.5 rebounds, 8.3 assists, and 2.6 steals. His points, assists, and steals led the team. It was an incredible season. His Sweet 16 performance against Michigan State will resonate forever.
Johnson was nearly his equal. He averaged 17.4 points and 6.8 rebounds in a season that rejuvenated his career and potentially set him on the path to the NBA. His comeback story was incredible.
Forward Nae'Qwan Tomlin gave the Wildcats a third double-digit scorer, averaging 10.4 points.
Guards Desi Sills and Cam Carter took turns in the starting lineup. Sills averaged 8.7 points and Carter averaged 6.5 points. Both averaged more than three rebounds and both had critical roles to play in Kansas State's run. So did Massoud and forward David N'Guessan. Massoud hit critical 3-pointers in the NCAA Tournament and averaged 5.4 points. N'Guessan popped in and out of the starting lineup and averaged more than six points.
Abayomi Iyiola gave the Wildcats some good minutes at times this season, including the Elite Eight game. He averaged more than 11 minutes per game.
Who's Leaving?
Per Kansas State's bios — which fortunately are quite specific about eligibility (and other Big 12 teams should take note), all six seniors on the roster are out of eligibility. That includes Nowell, Johnson, Sills, Iyiola, guard Nate Awbrey, and guard Tykei Greene.
Johnson and Nowell should both get long looks from the NBA.
Who's Staying and Coming In?
Based on the roster, here are the players with eligibility left — Carter, Massoud, N'Guessan, Tomlin, freshman guard Peyton Ackerman, sophomore center Jerrell Colbert, freshman guard Dorian Finister, freshman forward Taj Manning, sophomore guard Anthony Thomas. Barring transfers, that's nine returning players.
On the recruiting trail, Tang and his staff signed a Top 20 class per 247Sports.com, featuring guard RJ Jones from Mount Pleasant, Utah; guard Dai Dai Ames from Chicago, Ill.; and forward Macaleab Rich out of East St. Louis, Ill. Jones and Ames were particularly good gets. Both are Top 100 players and the sixth- and seventh-highest-rated Kansas State recruits of the 247Sports.com era.
That's 11 players with holdovers and newcomers. With an Elite Eight appearance to recruit on, there is potential to lure a key transfer or two.
What's Next?
First, Tang has to hang onto what he has on the roster and prep for a quality group of recruits. Then, he can venture into the portal. Unlike last year, when he needed more than 10 players, he can target what he needs. With Nowell out the door, he could use a point guard with shooting skill. With Johnson headed out, he could use another forward that is capable of getting a double-double and creating his own offense. The good news is that Tang can go out and get quality players.
This summer is about developing Carter, N'Guessan, Tomlin, and Massoud to get them to the next level.
You can find Matthew Postins on Twitter @PostinsPostcard