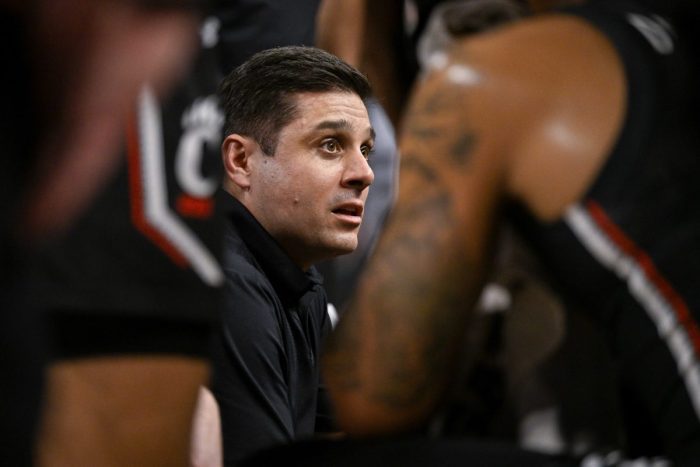 Wes Miller and the Cincinnati Bearcats have had a great start to the Miller era in Cincinnati as the program has been one of the overperforming teams in college basketball over the past few seasons, but with a move to the Big 12 Conference on the horizon, how will they fare against Big 12 competition?
The Bearcats finished off their final season in the AAC with an overall record of 23-13, 11-7 in conference play, good for fourth in the conference. Cincinnati missed out on a tournament bid as the only teams from the AAC to make the 2023 NCAA Tournament was Houston and Memphis.
Wes Miller is one of two coaches in Cincinnati history with 40 or more wins in his first two seasons as head coach of the program, however, the jump from the AAC to the Big 12 Conference brings a whole different beast in conference play.
Cincinnati, Houston, and UCF are all leaving their former conference for the Big 12 Conference and while the conference has multiple tougher teams than previous, this also grants teams like Cincinnati more opportunities for better wins.
Cincinnati finished fourth in their conference and missed out on the NCAA Tournament, the Big 12 Conference's 7th-"worst" team from a standings viewpoint was the West Virginia Mountaineers and they made the tournament as a nine-seed. It's tough to predict how Wes Miller will weather the storm but if Cincinnati can follow up last year's 20-win season with another 20-win season in the Big 12 Conference, expect them to receive a late tournament bid.
Wes Miller is also responsible for bringing in the 32nd-best recruitment class which ranks eighth among Big 12 teams in the conference with four-star players Jizzle James and Rayvon Griffith joining the squad.
While I do have faith in West Miller and company, the Big 12 Conference is a completely different level of basketball. From coaches and players to road games, I think the four new additional Big 12 schools (with the exception of Houston) will really struggle in road games during the season. My prediction for this Cincinnati team is ninth in the conference ranking ahead of the other new Big 12 schools minus the Houston Cougars.
Only time can tell how Miller's squad will handle the move, a budding coach, a top recruiting class, and a good home environment are a good recipe for success in the Big 12 Conference. Now all that's left is to pass time in the offseason.