Baylor Bears
Biggest Question for Each Big 12 Football Team in Spring Practice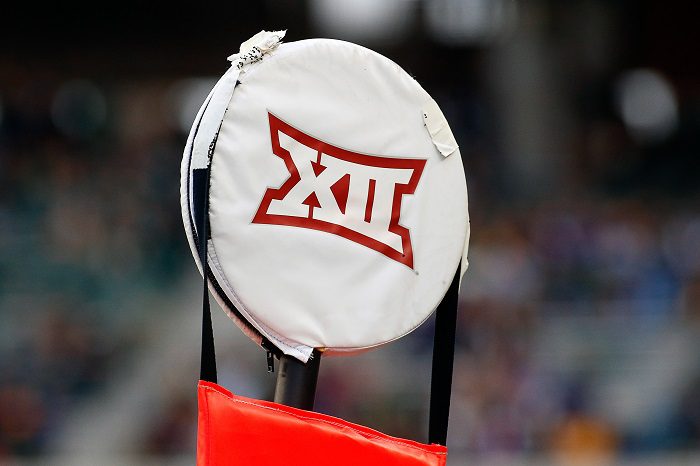 The 2022-23 Big 12 basketball season is officially over, meaning that it is time to switch focus to offseason football before the Big 12 baseball and softball tournaments start up in May.
The month of April will host many of the Big 12 football spring games, giving the public a first look at what the programs will put on the field in September. However, before we get there, there are several questions that need to be answered this spring.
Just like last season, the Big 12 will be difficult to predict, especially with four new teams in the mix.
Here is the biggest question that each team is facing as Spring Football gets into full swing.
Baylor Bears
Can the passing game be a real threat again in 2023?
Last season, we saw Baylor's offense struggle throughout the season as the loss of players like Tyquan Thornton, Trestan Ebner, and Abram Smith proved to be too much for the Bears to overcome. The running game ranked sixth in the Big 12 with 182.4 yards per game after leading the conference in 2021, while the passing game ranked eighth in the league. Can Blake Shapen take the next step and bring back the vertical threat to Jeff Grimes' offense? If so, it would do wonders for the running game and would take some pressure off the Bears' defense.
BYU Cougars
Can Jay Hill Fix the Cougars' Defense?
In 2022, BYU finished the season ranked 94th in total defense, allowing 408.1 yards per game, and 5.87 yards per play. The Cougars' defensive coordinator, Ilaisa Tuiaki, stepped down at the end of the regular season. Now, former Weber State head coach Jay Hill is on board as the new DC. The Bobcats ranked 14th nationally in total defense under Hill's leadership last season, surrendering just 324.1 yards per game and 4.50 yards per play. Can a change in leadership help shore up the defense in Provo, or will it take a couple of seasons?
Cincinnati Bearcats
How will things look under Scott Satterfield in Year One?
Luke Fickell shocked the world this offseason after leaving Cincinnati to take the Wisconsin job. The Bearcats pivoted by hiring Louisville's Scott Satterfield, and now he will be tasked with carrying Cinci into the Big 12. This league is incredibly competitive, as we saw last season, and it won't be an easy task to take a program to the Power Five level in a coach's first season. Can Satterfield maintain the level of success that Bearcats fans have grown used to, or are there hard times ahead?
Houston Cougars
Who will replace Tank Dell and Clayton Tune?
Dana Holgorsen's offense will lose two of its best players in recent memory with star wideout Tank Dell and long-tenured quarterback Clayton Tune both headed out the door. Texas Tech transfer Donovan Smith is now on the roster and appears to have an inside track on the starting job under center, but who will his main target be? Matthew Golden returns after ranking as the third-leading pass catcher on last year's team. Stephon Johnson transferred in from Oklahoma State and will factor in as well.
Iowa State Cyclones
Will Hunter Dekkers improve after a disappointing debut in 2022?
Coming into the 2022 season, there was a quiet confidence that the Cyclones were going to be just fine offensively with Brock Purdy and Breece Hall off to the NFL. Well, they weren't. Iowa State ranked dead last in the conference and 83rd nationally with 369.8 yards per game and only mustered 20.2 points per game. Hunter Dekkers passed for 3,044 yards and 19 touchdowns with 14 interceptions in 2022 and needs to take better care of the football this time around. If he can, Iowa State will improve. If not, it could be another long season.
Kansas Jayhawks
Can Lance Leipold cover Jalon Daniels in bubble wrap?
The Kansas Jayhawks will go wherever quarterback Jalon Daniels will take them, and if he can stay healthy, Kansas could have a great season. The thing is, he has to stay healthy. The offensive line should be better in 2023, and Logan Brown is a promising addition there. Daniels missed several games due to an injury against TCU last season, and Jason Bean was great in his absence. However, Daniels is a special talent and just has something that can't be replaced. Keeping him on the field is priority one, two, and three for KU this season.
Kansas State Wildcats
How does K-State follow up last season's run?
Was last season a sign of things to come for K-State football under Chris Klieman, or will the loss of Deuce Vaughn and Felix Anudike-Uzomah prove too much for the Wildcats to overcome in one season? Winning their first outright Big 12 championship since 2003 was a major accomplishment, but Klieman and staff will need to build upon that success right away to keep the momentum ball moving. Competing for another Big 12 Championship this year would be a great sign, and that is where things need to start for K-State in 2023.
Oklahoma Sooners
Will Oklahoma have a Brent Venables-esque defense in 2023?
Brent Venables was supposed to come in a fix the Sooners' much-maligned defense in 2022, and that didn't happen. OU looked lost on that side of the ball all season, and it showed up on the stat sheet. After retooling the defense through the transfer portal and an impressive recruiting haul, Oklahoma should be improved on that side of the ball in 2023, but the question remains: will they be? If not, the pressure will be immense with the move to the SEC just around the corner.
Oklahoma State Cowboys
Can Mike Gundy overcome the mass exodus from this offseason?
Oklahoma State had the vast majority of its offensive production exit via the transfer portal after the 2022 season, leaving Mike Gundy and his staff to piece back a roster that will compete for a Big 12 title in 2023. The issue is, pieces like Spencer Sanders, Trace Ford, Mason Cobb, and Dominic Richardson were major parts of Oklahoma State's gameplan in 2022 and won't be easily replaced. Can it be done? Sure, but it won't be easy. The good news is, Mike Gundy is Oklahoma State football, and he is coming back for another season.
TCU Horned Frogs
How does TCU perform after a magical ride in 2022?
Are the Horned Frogs due for a letdown in 2023 after competing for a national championship last season, or can Sonny Dykes prove that his ride in 2023 wasn't a one-hit wonder. TCU's roster will look completely different this season, with Max Duggan, Quentin Johnston, Kendre Miller, and Emari Demarcado all headed out after finishing as national runner-ups. Expecting another playoff run might be naive, but this team has surprised us before.
Texas Longhorns
Can Quinn Ewers Live Up to the Hype After an Up-and-Down Year in 2022?
Quinn Ewers came out of high school as one of the highest-rated quarterback prospects in recruiting history, but had up-and-down performances in his first year as a starter at Texas. In year two, he will need to make a jump, and a big one, if he is going to lead the Longhorns to where they are capable of going. If he can elevate his play and become consistent, Texas could be a dark horse playoff contender. If he can't Arch Manning is waiting in the wings and likely won't be kept off the field.
Texas Tech Red Raiders
Will Tyler Shough take a leap in Year Two under Zach Kittley?
Zach Kittley's offense has proven capable of stacking up yards and points in bunches, but having a quarterback capable of running the offense to its ability is key for things to go well. When healthy, Tyler Shough has shown that he can be a playmaker for the Red Raiders. There's tons of promise for Joey McGuire's squad going into year two, but that doesn't always equate to wins. I'm buying all the stock that I can get ahold of for Texas Tech going into 2023, though, and I think Kittley's offense will be a big factor in that.
UCF Knights
Can Gus Malzahn keep UCF near the top of the conference, even in the Big 12?
UCF has been a model of consistency in the AAC over the last several years, and it hopes to be that in the Big 12 as well. However, the jump in week-to-week competition is steep, and the conference will be as wide open as ever. Can Gus Malzahn keep things rolling in Orlando, or will the move prove to be too much to overcome in the first season as a member of a Power Five Conference?
West Virginia Mountaineers
What will it take for Neal Brown to keep his job after 2023?
Neal Brown's seat was in flames as the Mountaineers headed down the final stretch in 2022, but managed to win two of his final three games of the season, with victories over Oklahoma and Oklahoma State. In 2023, Brown will need to make huge strides if he hopes to stick around in Morgantown. Unfortunately, I don't know that eight wins is going to get it done though. If West Virginia is anywhere near .500 at season's end, Brown is definitely headed out the door.