Big 12 News
Texas' Porter Brown Highlights Big 12 Baseball Weekly Awards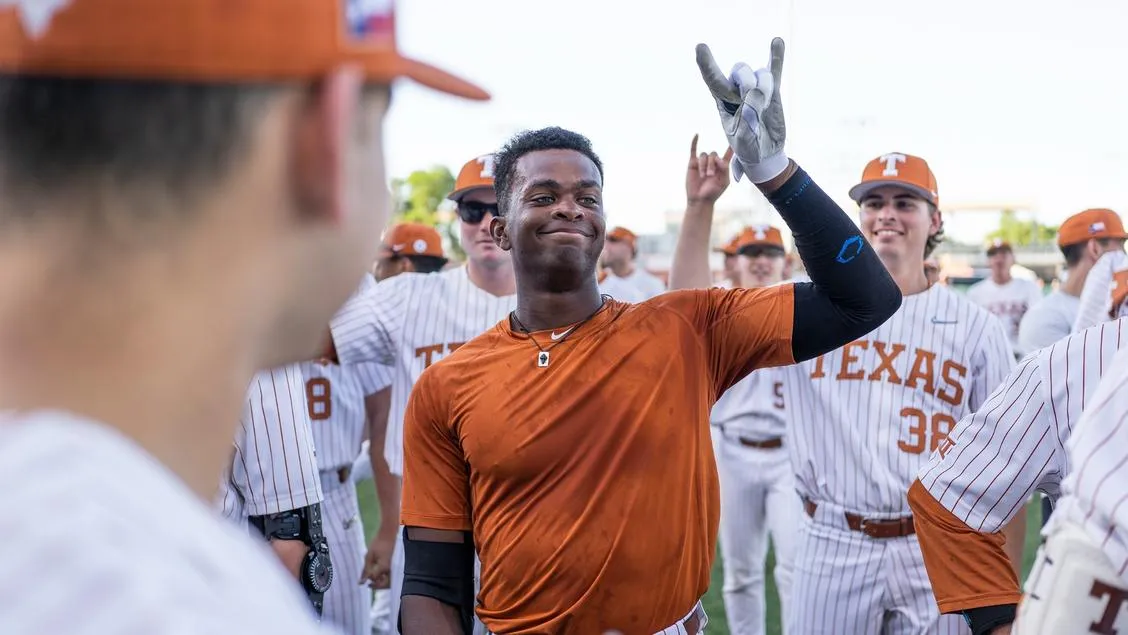 The Big 12 Baseball Weekly Awards are in and with it we have three separate teams earning honors this week. Texas' Porter Brown won Big 12 Player of the Week Honors, TCU's Cam Brown won Pitcher of the Week Honors, and Oklahoma State's Carson Benge won Newcomer of the Week.
Last week's list included Texas Tech's Austin Green as the Player of the Week, Baylor's Will Rigney as Pitcher of the Week, and Oklahoma's Dakota Harris and Texas Tech's Austin Green as Co-Newcomer of the Week.
The reigning Player of the Week Porter Brown helped the Longhorns to a 4-0 week, and to their first appearance in the D1 Baseball Top 25 of the season. Brown turned heads all week with a massive .615 batting average with two doubles, two home runs, and eight RBIs, per the Big 12 press release.
With Porter's help, the Longhorns completed the series sweep of No. 14 Texas Tech, where brown crushed a go-ahead two-run home run in the sixth inning, which held up as tying and winning runs in the 6-2 victory. In Saturday's matchup, Brown continued his hot streak with a leadoff double in the bottom of the ninth and scored on a wild pitch in a 6-5 walk-off win. For the week, the junior outfielder had a 1.878 OPS and scored six total runs. This award is Brown's first career Player of the Week honor, since winning Newcomer of the week in 2019.
TCU's Cam Brown had a whirlwind of a week throwing a complete-game two-hit shutout in the Horned Frogs' 14-0 run-rule win over Kansas on Sunday. Brown started off slow (if that's possible to say about a two-hit shutout) allowing the first two Jayhawk hitters to reach base. Brown then retired 20 of the next 21 hitters he faced, only allowing a sixth-inning single that was shut down on a double play. Earning eight K's in the game, Brown held Kansas to an abysmal .091 batting average. This marks the first career complete game and shutout for the junior pitcher while the 7.0 innings pitched matched his season-high.
The Newcomer of the Week went to Oklahoma State's Carson Benge who showed out for OSU and helped to complete a 4-0 week which included a sweep of Baylor and a mid-week win over Wichita State. Benge not only was special on the mount, but he also batted .529 adding two home runs, three doubles, and seven RBIs with multiple hits in all four games. Against the Shockers, Benge pitched five innings allowing one run on three hits while striking out five to earn his first career win. Benge wrapped up the week with his first Big 12 honor.