Big 12 News
All-Big 12 Guard Gabby Gregory Announces Return to Kansas State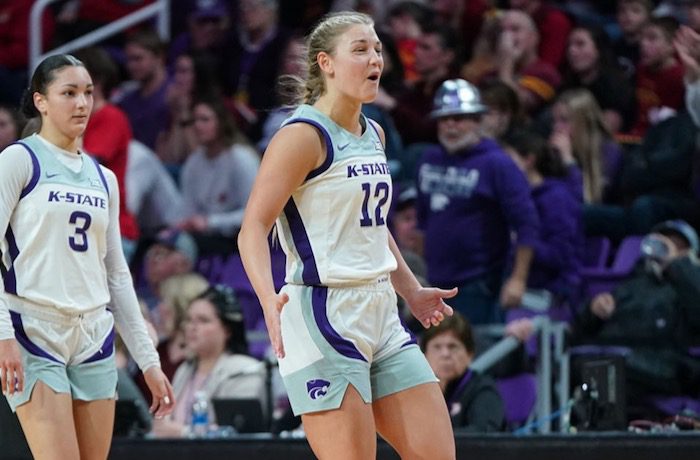 The Kansas State Wildcats got some good news this week for the 2023-24 season. First Team All-Big 12 guard Gabby Gregory has announced she'll come back for her super senior season.
"This team is so special, and I'm so excited for one last ride next year!!" Gregory tweeted upon breaking the news to the women's basketball world.
In her new digs in Manhattan after transferring from Big 12 rival Oklahoma, Gregory put together the most productive season in her career, pouring in a team-high 18.2 points per game to go along with 5.2 rebounds and 2.1 assists per contest. She shot it 41.8% from the field, including 33.5% from 3-point range.
Showing her durability, Gregory played all 40 minutes eight times, including 44 in an overtime game at Oklahoma. She averaged 34.2 minutes per game in leading the Wildcats' offense.
Throughout her career, Gregory has averaged 13.4 points, 4.2 boards and 1.5 assists per game while shooting 40.1% overall and 32.9% from beyond the arc. That included her second-most productive season back in 2020-21 when she averaged 16.6 points, 4.7 rebounds and 1.6 assists per contest for the Sooners under then-head coach Sherri Coale.
On the heels of an incredible sophomore season, Gregory then battled through injuries that limited her to only 18 games during Jennie Baranczyk's first season in front of the Oklahoma bench. She contributed with only 2.6 points and 1.3 boards, eventually electing to enter the transfer portal at the conclusion of the season.
With Gregory back in the fold, the Wildcats will look to return to the NCAA Tournament after a one-year hiatus. They finished 19-17 and ultimately exited in the third round of the National Invitational Tournament after a 55-48 loss at Washington.