Big 12 Basketball
Big 12 Basketball Transfer Portal Thoughts for March 29: Iowa State's Instability, TCU New Faces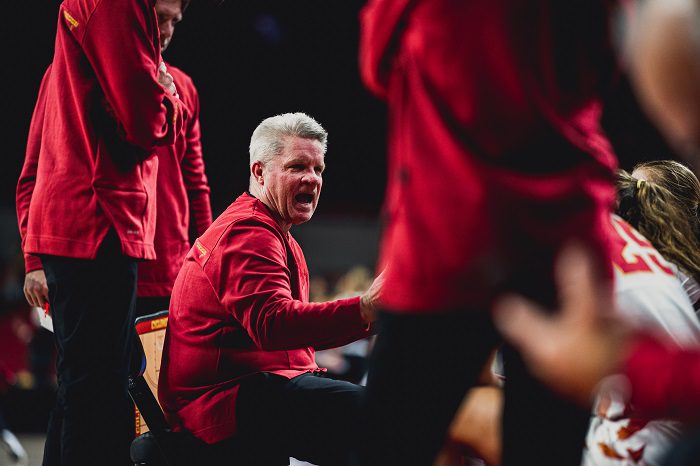 The transfer portal is roiling both Big 12 men's and women's basketball as the NCAA Tournaments head toward the Final Four this weekend.
Each Wednesday I'll have some thoughts on what's going on in the transfer portal from a Big 12 perspective, at least until things settle down. Which, frankly, could be never.
What's Going on at Iowa State?
Iowa State's women's basketball team has been quite stable the past few years. Not this offseason.
The Cyclones knew they would lose five-year star Ashley Joens. Last week the Cyclones found out that center Stephanie Soares wouldn't get her injury waiver and she's off to professional basketball.
As of Tuesday there are five Cyclones in the transfer portal, the latest being guard Denae Fritz.
If you're keeping track, Iowa State now has five returning players and only one — guard Emily Ryan — was a starter at the beginning of the season.
Iowa State does have an incredible recruiting class, five players in all. Three of them are Top 100 recruits.
But Lexi Donarski, Fritz and Ryan were supposed to take the lead next season. Now it's just Ryan.
How much of this is about the program? How much of this is about coach Bill Fennelly? How much of this is just about those players just needing a change?
I honestly don't know. This is kind of uncharted territory when it comes to ISU. But I'm pretty certain Fennelly isn't going anywhere.
But the players sure are.
The Fallout in Morgantown Begins
The sudden departure of coach Dawn Plitzuweit for Minnesota is starting to impact the West Virginia women's basketball program, even as athletic director Wren Baker looks for a new coach.
In terms of the transfer portal, the Mountaineers lost Isis Beh in the last week. That's three Mountaineers players out the door, though one left well before the season ended.
Perhaps just as importantly, the top recruit Plitzuweit lured to Morgantown for the 2023 class, Grace Grocholski, is following her to Minnesota.
So whoever gets the job has some work ahead of them, and the job probably gets harder after they're hired.
Haggerty Gone at TCU
In the last week, TCU guard P.J. Haggerty declared for the transfer portal, per Verbal Commits. That's significant in that he was the only member of the Horned Frogs' 2022 recruiting class.
Go back to 2020 and the Horned Frogs have brought in four prep recruits. Only one is still around — guard Mike Miles. And he declared for the NBA Draft on Wednesday.
I don't think that's necessarily an indictment on coach Jamie Dixon or the program.
That's just the way of the college basketball world now.
You can find Matthew Postins on Twitter @PostinsPostcard
Big 12 Basketball Transfer Portal
(as of March 28)
Men
Outgoing — Baylor: G Jordan Turner; Iowa State: G Eli King; Kansas: F Cam Martin, F Zach Clemence, G Bobby Pettiford Jr., G Joseph Yesufu; Oklahoma: G Joe Bamisile, G Bijan Cortes, G C.J. Noland, G Benny Schroder; TCU: G P.J. Haggerty, F Eddie Lampkin, G Michael Niemann; Texas Tech: F Fardaws Aimaq, F KJ Allen, G Elijah Fisher, F Robert Jennings; West Virginia: G Josiah Davis,F Jamel King. Houston: C Kiyron Powell (to Southern Indiana) UCF: G P.J. Edwards, G Tyem Freeman, G Jayhlon Young.
Incoming — Texas Tech: F KyeRon Lindsay (from Georgia); West Virginia: F Jose Perez (from Manhattan), G Omar Silverio (from Manhattan).
Notes: Perez transferred to WVU in November but didn't get a waiver to play in 2022-23. Silverio transferred in March and needs a waiver.
Women
Outgoing — Baylor: F Kendra Gillispie; Houston: G/F Paris Netherly; Houston: G/F Paris Netherly; Iowa State: G Lexi Donarski, G Maggie Espenmiller-McGraw, G Denae Fritz, F Morgan Kane, F Maggie Vick; Kansas: G Bella Swedlund (Toledo); Texas: G Kyndall Hunter; West Virginia: F Isis Beh, G/F Wynter Rogers (to Arkansas State), G/F Savannah Samuel.
Incoming — BYU: G/F Jennah Isai (from Oregon); UCF: G Ashley Foster (from Georgia State), G Kaitlin Peterson (from Indiana), G Timia Ware (from LSU); Oklahoma: G Kaley Perkins, G/F Payton Verhulst (from Louisville); Oklahoma State: F Hannah Gusters (from LSU);
Sources: Players' social media accounts, Verbalcommits.com, 247Sports.com, Wbbblog.com