Big 12 News
Kansas State's Ish Massoud To Hit Transfer Portal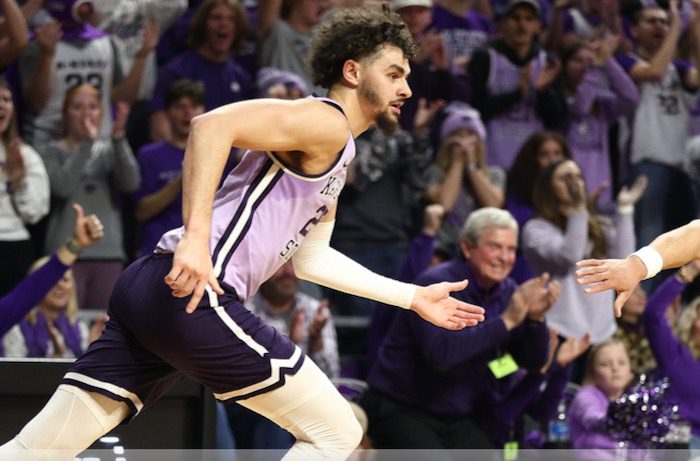 Major news has surfaced out of Manhattan, Kan. Kansas State forward Ish Massoud announced Wednesday he's planning on entering the transfer portal.
"Just want to start by saying Alhumdullah (Thank God) for everything that has transpired in the last two years and that everything happens or doesn't for a reason," Massou started in a lengthy statement on Twitter. "This year was a dream come true in so many ways and allowed me to grow so much as a player and a person. I want to thank Coach [Bruce] Weber and his staff first and foremost for giving me an opportunity of a lifetime to play at K-State. I wanna especially thank Coach Shane Southwell for making that first call. Thank you Coach [Jerome] Tang and his whole staff for having me be a part of a special year on and off the court. This year challenged and rewarded me in many ways that I'll be forever grateful for. To all my teammates, I've made brothers for life and bonds I'll cherish forever.
"Lastly, to the fans and people of Manhattan, my time here has helped me find a new home, y'all welcomed me with open arms and showed me so much love over my two years here. I'll be a Wildcat for life.
"With that being said, I plan on graduating this spring and entering the transfer portal to finish my last year of college basketball. Looking forward to all the future has to offer, Inshallah (God Willing)."
This comes just days after Massoud called Manhattan "one of the happiest places on earth" in advance of the Wildcats' Elite Eight matchup with Florida Atlantic.
"Just being around that environment, seeing the Octagon of Doom and just the opportunity it presented for me to come out and just have a new home, and it was something I couldn't pass on," Massoud said.
Before last season, Massoud transferred to Kansas State from Wake Forest. And he quickly became a key cog and certainly was a major one for the 'Cats in their dance that came up one game short of college basketball's ultimate stage.
Massoud averaged 5.4 points and 1.7 rebounds in 15.3 minutes per game off the bench. That included a healthy 15 points and couple of rebounds in 27 minutes in a huge Sweet 16 triumph over the Spartans. He hit 5-of-8 shots from the field and obviously was a tremendous boost.
Throughout his career, Massoud is averaging 6.2 points and 2.4 boards per contest. All eyes now turn to where he'll take that production next.