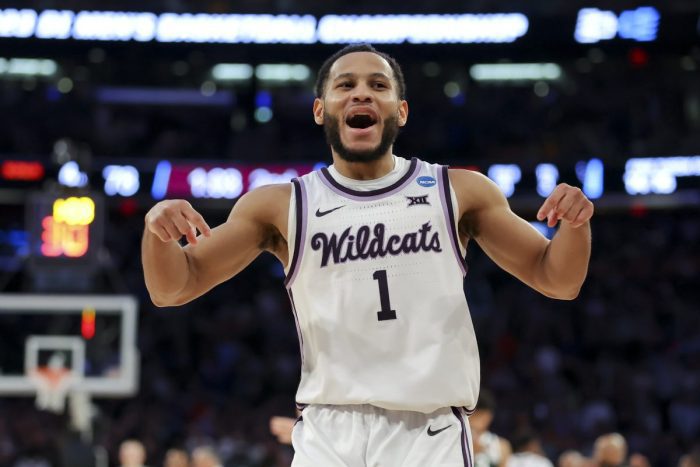 Kansas State Wildcats star guard Markquis Nowell has exhausted all of his eligibility and is entering the 2023 NBA Draft. With that in mind, after a fantastic season, he released a heartfelt statement on Twitter thanking a number of people and expressing just how enjoyable his time in Manhattan has been.
Dear Kansas State,

First and foremost, I want to thank my Lord and Savior Jesus Christ. Without him, none of this is possible.

Playing for Kansas State has been nothing short of a dream come true. From wearing the script Wildcat across my chest, to a ridiculously loud Bramlage with the most passionate fans in the world, I'm grateful for it all.

To my teammates, coaching staff, Gene Taylor and everybody who works their magic behind the scenes, thank you! All those hours in the gym and all the late nights working allowed me to have the success that I've been able to have. You guys have been nothing short of a blessing in this chapter in my life.

To the fans of Kansas State University, I hope I made you guys proud, I hope when you think of me you think of the kid from Harlem, N.Y., who was the most passionate and most exciting player that played for K-State. I played for the name on the front of the jersey and not for the name on the back. Thank you guys for giving K-State the best home court advantage in the country. You guys are a big piece to our success. Continue to pack out Bram and remind people why the Octagon of Doom is the scariest place to play if you're a visiting foe.

To play in the NBA has been a dream of mine since I was 7 years old, and I finally have the opportunity to turn a dream into a reality. Continue to pray for me as I embark on this new journey and chapter of my life. And never forget, Every Man A Wildcat!
It truly was a special NCAA Tournament for Nowell. Prior to the third-seeded Wildcats' exit in the Elite Eight against No. 9 seed Florida Atlantic, he became the first player to eclipse the 50-assist mark in the Big Dance since Illinois' Deron Williams in 2005. Two days earlier, Nowell set the NCAA Tournament single-game assist record with 19 dimes in a victory over seventh-seeded Michigan State.
Nowell's greatness will obviously be missed at Kansas State. But his impact has been felt, and he's now taking his talents to the next level.