Big 12 News
Former Iowa State Guard Caleb Grill Enters Transfer Portal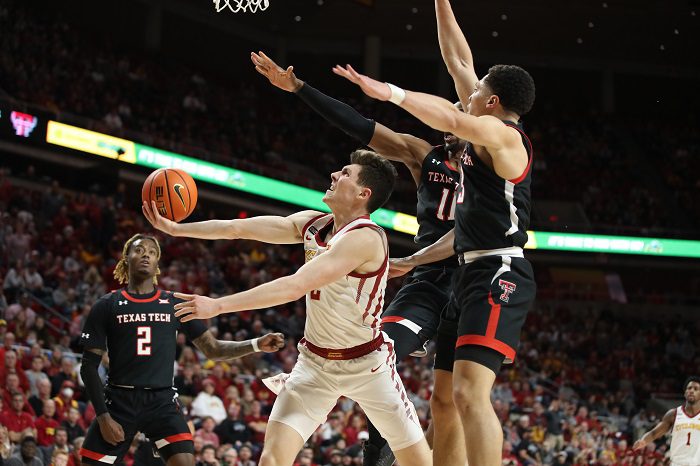 Iowa State guard Caleb Grill will continue his career elsewhere after being dismissed at the latter portion of the 2022-23 season. He's officially entered the transfer portal, according to multiple reports.
For someone, that means it'll pick up a very experienced player. Over the course of his four-year career at Iowa State and UNLV, Grill has averaged 6.6 points, 2.8 rebounds and 1.4 assists per game.
Grill participated in 25 games this season, starting 22 of those. He averaged 9.5 points, 4.0 rebounds and 1.4 assists per contest.
Upon the news of his dismissal in early March, head coach T.J. Otzelberger released just a brief statement on the decision, after which Grill released a lengthy one of his own. With reporters, Otzelberger, then provided a much longer statement on the matter.
"So, Caleb and I have known each other I think for probably somewhere around six years," Otzelberger started, when asked by a group of reporters. "We've had a relationship. And you develop a bond. You care for somebody. You want them to be successful. I've had a belief in him for a long time, enough of a belief in him to want him here with us at Iowa State. And you want them to be successful. You want him to be successful. I'd say even as things move forward, I'm a fan of Caleb Grill and I want Caleb Grill to do well, and I'll continue to have his back moving forward, however he wants to do that.
"And at the same time, you know, it's really important as the leader of this program that the decisions that we make every single day, always, are in the best interest of our program, as much as I want a certain individual like Caleb to be successful. And with our team, we've got a lot in front of us still this year. And our guys have a tremendous focus. We had a great practice this morning, and we have a great opportunity come this Saturday.
"So, I'm always going to be there for Caleb. I'm always going to support him and continue to support him, based on a relationship that goes back many years. But we're gonna turn our focus to do what we need to do to be successful and win our game Saturday and continue to improve with our team this season moving forward."
With Grill no longer in the fold, the Cyclones finished the season with a 19-14 record and 9-9 mark in the Big 12. They were knocked out of the NCAA Tournament by Pittsburgh 59-41 in the first round.