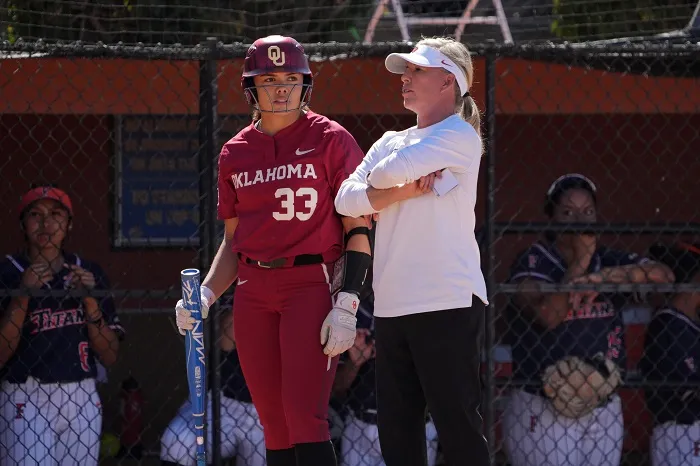 Ask any Oklahoma or Texas fan who their chief rival is, and they'll quickly say the other. Ask Oklahoma coach Patty Gasso, and she'll have a different response.
"I know we're supposed to. When I first got here, it was like these are the two programs you hate," Gasso said, obviously referencing Texas and Oklahoma State. "And I'm like, 'Why? I don't know. I don't know anything about them.' So no, not really. I mean, we know battles that are coming, but we don't look at it like, 'Oh yeah, we hate.' We don't do that. I think that's the beauty of this program, is that we put value on any team that we play. And again, we want to play our best. We know the importance of it.
"So, there are a few teams we've had a little bit of chippiness with, but not to the point of all-out war. We don't play our game that way."
Instead, perhaps, it's more of a macro level when you address the term 'rivalry.' Teams the back-to-back champion Sooners have faced on the big stage are a perfect example of that.
"Yeah, absolutely," Gasso said. "Yeah, I think, you know, like we had that series with Florida State. And all of a sudden they become a rival, but I don't look at them as a rival. I look forward to playing teams that are going to play the way we do. And that is play hard because we're making each other better. And that's really, really important.
"So, again, when I think of rivalry, I think of hate. And I don't know if that's the right way to think of it. So, if that's how it is described, then we don't have rivals."
This weekend, Sooner and Longhorn fans alike will be viewing things in a different light, as they always do when the two face off. Oklahoma has thoughts of keeping its nation-long 22-game winning streak intact, while Texas has visions of knocking the champs off their pedestal a bit.
First pitch in the best-of-three set is set for 6 p.m. CT Friday at Hall of Fame Stadium in Oklahoma City. Games two and three will then shift to Marita Hynes Field in Norman, with first pitch set for 11 a.m. CT Saturday and the same time Sunday.