Texas Tech Red Raiders
Former Texas Tech Hoops Star Norense Odiase: Grant McCasland 'Competitive and Hungry Because of the Vision He Has'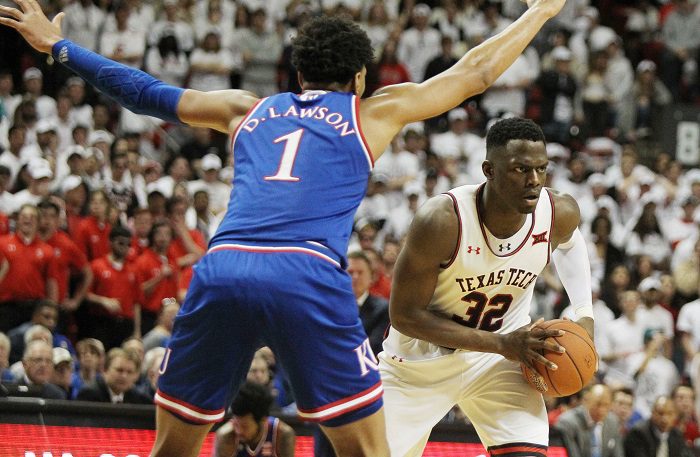 Norense Odiase knows a thing or two about the Texas Tech Red Raiders' basketball program. He played in it from 2014-19 and was a part of a run to the national championship game in 2019, an Elite Eight in 2018 and also another NCAA Tournament berth in 2016.
So, his approval of the Red Raiders hiring Grant McCasland as their newest head basketball coach definitely holds some weight. And his approval, Odiase provided.
"What impressed me most about Coach McCasland is his vision and expectations," Odiase said, via KLBK News' Arielle Schafer. "He talked about winning championships. That was important for me to hear because we have a standard of excellence at Tech that will not be lowered. For him to embrace it and say that was important to me. He wants it more than he's afraid of it. I think it gets everyone involved when a leader has that expectation from the first day. He talked about the community and building relationships. How that was really important to him. Getting everyone involved.
"He understands the position and West Texas. He knows the grit and toughness that we have. I like a lot about him and know that he is a leader who is competitive and hungry because of the vision he has. I'm excited about the tenure under him."
The Red Raiders will sign McCasland to a six-year contract with $18 million, according to CBS Sports. McCasland is fresh off of leading the North Texas Mean Green to an NIT Championship, after they defeated Conference USA foe UAB 68-61 on Thursday night to win the tournament.
It was the last time that both teams will play as members of Conference USA, as both the Mean Green and Blazers are headed to the American Athletic Conference next season.
Under McCasland's watch, North Texas finished 31-7 for the 2022-23 season. That brought his record as a head coach to 210-89. Over the last six seasons at UNT, McCasland went 135-65 and appeared in the NCAA Tournament in 2021, upsetting No. 4 Purdue in the first round.
Reports surfaced Thursday from KCBD 11, an NBC News affiliate in Lubbock, Texas, that McCasland was set to be named the next head basketball coach at Texas Tech, with an announcement coming after the conclusion of the NIT Tournament. And that turned out to be exactly the case.
McCasland, who quickly shared a spirited message with Red Raider Nation, will be the third head coach for Texas Tech in as many years, following Chris Beard's exit and Mark Adams' resignation.