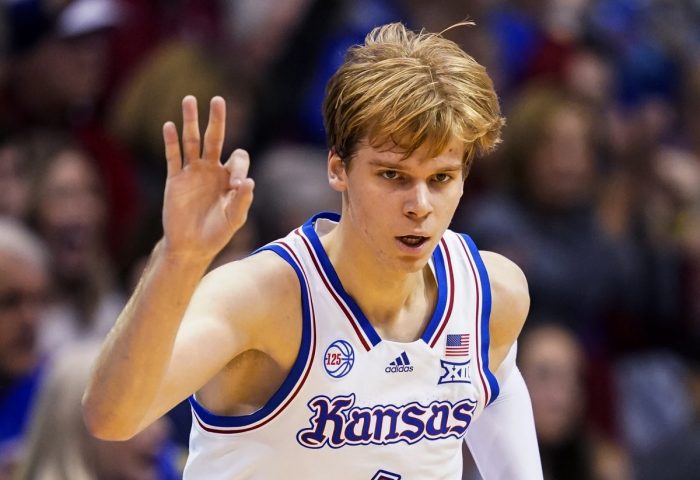 Kansas star forward Gradey Dick has done what many expected him to after one season in Lawrence, declaring for the 2023 NBA Draft.
Following his fantastic freshman year with the Jayhawks, Dick has proven to that he is ready to play at the next level. Even before he arrived on campus, Dick was a potential draft pick, but this season provided further evidence that he is ready to make the jump.
ESPN's Jonathan Givony reported the news on Twitter, in a message saying: "Kansas freshman Gradey Dick will enter the 2023 NBA draft and forgo his remaining college eligibility, he told @malika_andrews on ESPN's NBA Today."
Listed at 6-8, Dick is an athletic forward that is a shooting threat from outside, making him a very interesting prospect in this year's draft class. He is widely considered a fringe lottery pick, ranking No. 17 in CBS Sports' 2023 NBA Draft Prospect Rankings.
Dick was selected to the All-Big 12 Second Team in 2022-23, as well as the All-Big 12 Freshman Team, and All-Big 12 Newcomer Team.
He finished his lone season at KU averaging 14.3 points and 4.9 rebounds per game during the regular season, including 13 points and 9 rebounds averaged through his two tournament games. He also ended the year with 83 made threes, shooting 40.3 percent from beyond the arc.
The 2023 NBA Draft is set for Thursday, June 22, 2023, in Brooklyn at Barclays Center.