Big 12 News
Patty Gasso Responds to Mike White's Insinuation of OU Softball Cheating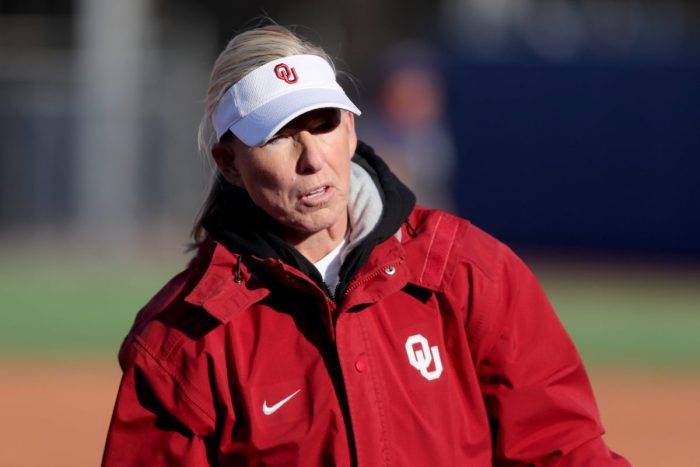 In one of the most interesting storylines of the season to date, Oklahoma Sooners head coach Patty Gasso responded to criticism and insinuations of cheating from Texas coach Mike White by saying, "I'm not surprised but I take the high road."
Gasso's response was fueled by Mike White's comments from earlier in the week where he seemingly implied that the Oklahoma Sooners are finding ways to win and reload talent in shady ways.
"They find ways to keep reloading, and I'm not quite sure all of it is–you know, whatever, I won't say any more," White said while stopping himself in an interview, via KVUE's Tyler Feldman.
Gasso responded by saying in full, "I'm not surprised but I take the high road. I don't have to answer to anybody. I've just got to look in the mirror and I am very comfortable when I do that," according to The Oklahoman's Ryan Aber.
As for the game on Friday night, No. 1 Oklahoma beat No. 9/8 Texas 8-1 in game one of the three-game Red River series. Also, the Oklahoma Sooners broke the single-game regular-season attendance record.
The game was played in front of a record-breaking crowd of 8,930 at USA Softball Hall of Fame Complex. The attendance number shattered the previous NCAA single-game regular season attendance number of 5,724 set by Fresno State in a doubleheader vs. Arizona at Bulldog Diamond in Fresno, Calif., in 2000. 
As for this rivalry itself, Gasso downplayed it recently when asked about who is the Sooners biggest rival, she said, "When I first got here, it was like these are the two programs you hate," Gasso said, referencing Texas and Oklahoma State. "And I'm like, 'Why? I don't know. I don't know anything about them.' So no, not really. I mean, we know battles that are coming, but we don't look at it like, 'Oh yeah, we hate.' We don't do that. I think that's the beauty of this program, is that we put value on any team that we play. And again, we want to play our best. We know the importance of it."
Oklahoma and Texas play Game 2 on Saturday with an 11 a.m. CT first pitch in Norman. The game will be shown to national audience on ESPN2 with Beth Mowins, Michele Smith and Amanda Scarborough on the call.