Big 12 News
Watch: Texas Softball Coach Mike White Says He Did Not Call Patty Gasso a Cheater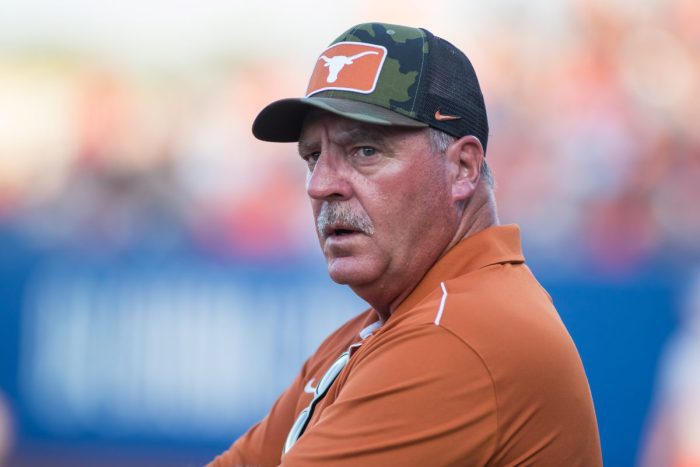 And the drama continues to build between Oklahoma and Texas softball. After OU dominated Texas 8-1 in Game One of their three-game series on Friday night, UT coach Mike White was asked about his recent comments which appeared to insinuate he thinks OU softball may be cheating via the transfer portal.
These comments are from earlier this week when White said, "They find ways to keep reloading, and I'm not quite sure all of it is–you know, whatever, I won't say any more," in an interview, via KVUE's Tyler Feldman.
When asked about it after the game, White gave a full two-minute commentary on the topic and said in part, "If Coach Gasso thinks I called her a cheater, I apologize, I did not. I did not call her a cheater… did I call her a cheater? Insinuated, maybe, whatever. But I certainly did not. I Just said I don't want to talk about that. NIL is a huge part of this game right now. We're behind. Oklahoma is lucky enough to have quite a large fund available, as I understand, I don't know if its true, just what you hear, for gymnastics, softball and football. At Texas we have 22 sports, we just can't compete with that… it's a case of the haves and have nots."
Here's the full video of Mike White's comments.
Needless to say, this only builds the drama in this rivalry between these two teams. They continue their series on Saturday with an 11 a.m. CT first pitch in Norman. The game will be shown to national audience on ESPN2 with Beth Mowins, Michele Smith and Amanda Scarborough on the call.