Big 12 News
Jerome Tang Wins Naismith National Coach of the Year Award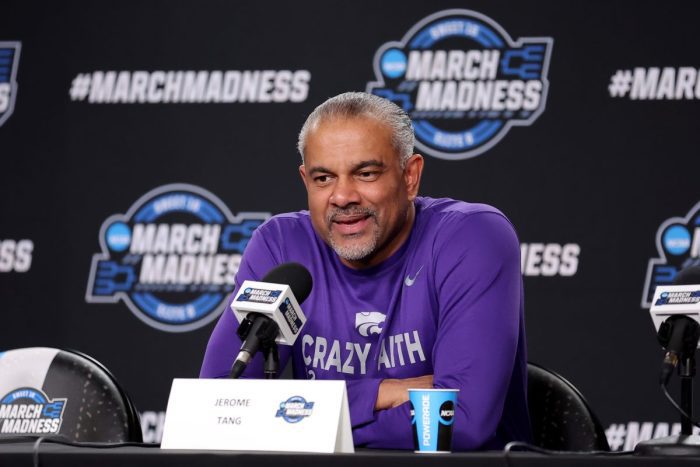 The writing was on the wall for the 2023 Naismith National Coach of the Year Award, and the writings all said Jerome Tang. The first-year head coach for the Kansas State Wildcats had one of the best seasons in program history this year, and while it didn't end the way fans may have wanted, they can rest easy knowing their coach is among the best this year.
The Wildcats not only had a spectacular year on the basketball court, making it all the way to the Elite Eight before falling to the FAU Owls, they also established a culture at the national level for all to see.
Tang led his squad that was originally picked to finish last in the Big 12 Conference to the Elite Eight, as well as finished third in the Big 12 in one of the most competitive years ever. Tang becomes the first K-State head coach to earn Naismith honors and just the third to be selected as National Coach of the Year with joining Tex Winter in the 1958 season, and Jack Hartman in the 1980 season.
Tang spoke on the honors shortly after receiving the announcement saying, "There are so many people to mention who have put me in this position. I want to thank our players and staff. I can't begin to express my appreciation to them for all their hard work and sacrifice this season. We started with Markquis and Ish and it grew to 15 players who became brothers on and off the court, enabling us to go from a team picked last in the Big 12 to one who won 26 games and advanced to the Elite Eight. I will always be indebted to them."
Tang finished his speech by thanking each one of his assistant coaches by name as well as anyone who had an impact on his success as a head coach.
While Jerome Tang prides himself in focusing only on what's next during the season, Tang and the rest of his coaching staff had an incredible year redefining what it means to wear purple. Jerome Tang quickly became one of the best hires in K-State's history, and one of the all-time best hires in all of college basketball.