Baylor Bears
Big 12 Softball Power Rankings: Sooners Prove Their Worth at No. 1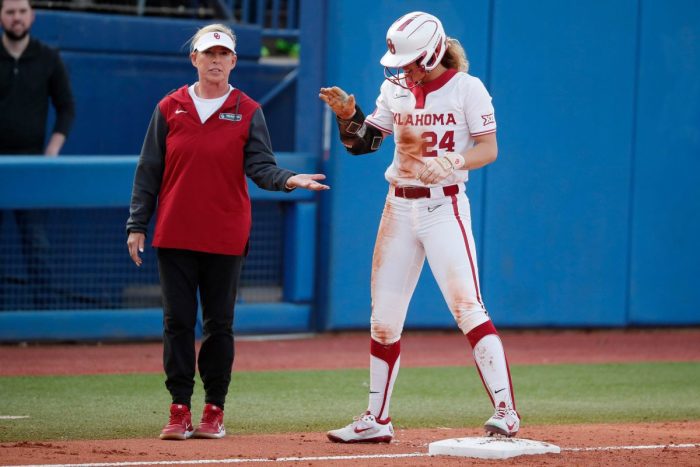 After two weekends of conference play in Big 12 softball, the pecking order is starting to take shape as conference wins and losses stack up.
The top-ranked Oklahoma Sooners took down No. 8 Texas in a three-game sweep of the Longhorns, further exemplifying why Gasso's girls are the standard in this sport. Texas put up a fight though, as you would expect from a top-ten team, but there's still a stark difference between the two squads.
With Oklahoma State idle this weekend in Big 12 play, focus shifted to the series in Waco and Lubbock, with Baylor and Texas Tech taking 2-1 victories in each of those.
Now two weekends into conference action, here's a look at the Big 12 softball power rankings.
The Sooners are the placeholder for the top spot in these rankings until further notice. Coming into the weekend, Texas ranked 10th nationally in scoring (6.89 runs per game, and fourth in batting average (.351). Oklahoma held the Longhorns to six runs total and 13 hits on 70 at-bats for the series (.185 average). Meanwhile, the Sooners piled up 22 runs in three games against a pitching staff that ranked 18th in ERA before this weekend (1.89). Knocking OU from its perch at No. 1 appears as if it will be a tough task for anyone to do a second time in 2023.
Oklahoma State got a bit of a midweek scare from Tulsa last Wednesday, as the Hurricane took OSU to nine innings before the Pokes prevailed with a 3-2 win. The Cowgirls got the weekend off from Big 12 play, but did head down to San Antonio to take on Incarnate Word in a doubleheader on Saturday. After 11-0 (5 inn.) and 10-0 (5 inn.) victories, it feels safe to say that things are back on the upswing, as the offense came alive again. As the pitching staff in Stillwater builds momentum, this team gets more and more dangerous. It's no coincidence that OSU is No. 2 in the nation. This team is the real deal.
What's that old saying about getting knocked off your horse? Well, Texas will need to saddle up again after an encounter with the nation's top squad in Norman, but I have a feeling they will do just that. The Longhorns had Oklahoma dead to rights in Game 2, taking a 3-1 lead into the bottom of the seventh. However, a two-run shot from Jayda Coleman gave the Sooners the momentum, and then a walk-off RBI from Kinzie Hansen sealed it. Texas is certainly worthy of its ranking at No. 8 nationally and No. 3 in our power rankings.
In what many wrote off as a sweep for Baylor, the Bears had to fight to get a series win against Kansas this past weekend, dropping Game 1 on Friday before rallying to win back-to-back games on Saturday and Sunday. Baylor's offense managed just eight runs on the weekend, but the pitching staff continued to prove it can keep the Bears in games, surrendering just three runs all weekend. The bats are going to have to wake up though because 14 runs through two series just isn't going to cut it.
Just like Baylor, Texas Tech got more than it bargained for from Iowa State, losing Game 1 to the Cyclones before rallying to win Games 2 and 3. Unlike the Bears though, it is the Red Raiders' offense that won them the series. Texas Tech had to outscore Iowa State 15-9 over the next two games to win its first series of the season. Iowa State's offense is the worst in the Big 12, and giving up 12 runs over three games isn't a good look. They'll need to get that figured out if they hope to be serious contenders going forward.
The good news? Kansas picked up a win on the road against a good Baylor team. The best way to describe Kansas so far this season is a "rollercoaster," as things have been up and down all season long. When the Jayhawks are playing well, they are good enough to give almost anyone trouble. When they aren't playing well, they're the worst team in the conference. Unfortunately, they can't make up their minds on how they play from game-to-game, and that makes for unpredictability all season long.
The Cyclones and Jayhawks are cut from the same cloth, as they have the pieces to be competitive, but aren't consistent enough to make up ground in the conference race. Teams like OU, OSU, and Texas are vastly more talented than Iowa State and Kansas, so there isn't any room for error. For the time being, this is where the Cyclones will float, with their ceiling likely around fifth place in the power rankings. At this time, Iowa State is out of the hunt for a postseason tournament spot.