Big 12 News
Deuce Vaughn on NFL Draft Decision: 'I Don't Think My Body Could Have Done Another 300 Touches'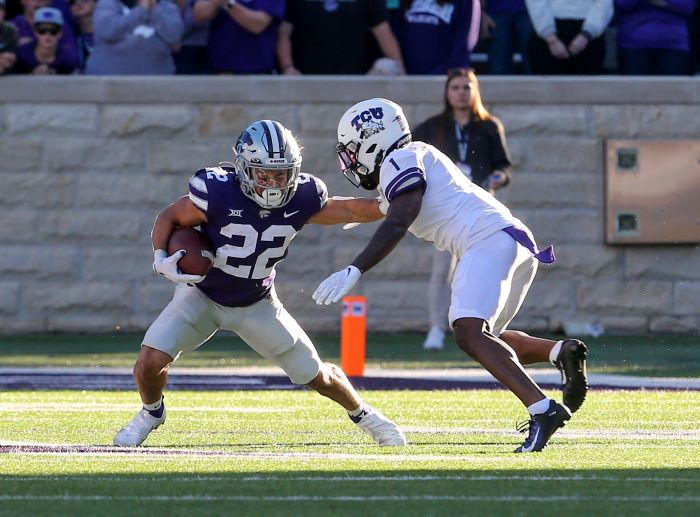 While Deuce Vaughn's NFL Draft decision didn't shock the world, K-State fans still held out hope to see 22 return wearing purple for his senior season. Vaughn thought for a long time before deciding to enter his name into the NFL Draft even telling media members including Kellis Robinet of the Kansas City Star, that the decision was really hard.
"It was. It really was. A lot of people would think that leaving after three years was a dream come true, but it really wasn't for me. I love this place. I loved playing inside of Bill Snyder Family Stadium. I love these guys inside the locker room and I love these coaches."
After providing a thought-provoking answer, Vaughn was questioned further about his decision where he basically revealed that the NFL came down to logistics.
"It was a business decision, I don't think my body could have done another 300 touches. This past year I went through a lot of stuff to be on that football field. It was one of those decisions that I made with my family. I had to understand that another year of college football wasn't going to help my draft stock. This has been a dream for a very long time and it's time to go attack it."
Vaughn declared for the NFL Draft after winning the Big 12 Championship in his final season with Chris Klieman and the Wildcats and became not only one of the best players in K-State history but all of college football.
While the future for Deuce Vaughn is still up in the air for another 24 days, Vaugh plans to take some time to relax in Manhattan before getting his name called on draft night. "I will be here in Manhattan for about two weeks doing some interviews and Zoom calls, but then I get to the fun part, getting back to working out for football and getting ready for rookie minicamp. I'm super excited about this next step."
The NFL Draft kicks off in Kansas City on April 27th where Vaughn will be eagerly waiting with the other backs to hear their names called. Vaughn ended his college career as one of the best running backs in the nation.