Trending Now
Lincoln Riley Enjoys 'Normal Life' in Move From Oklahoma to USC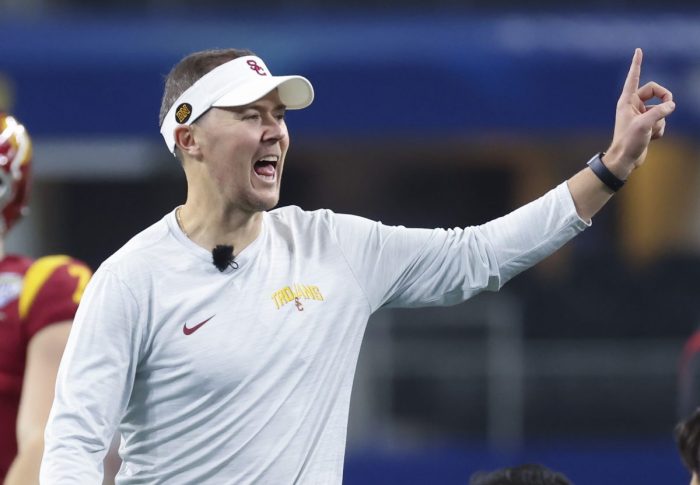 It appears that Lincoln Riley may have gotten the better end of the deal in the break-up with Oklahoma, as the former Sooners head coach went 11-3 in his first year at USC, while OU crawled to 6-7 under Brent Venables in Year 1.
The stark difference in success in Norman when comparing last season to years' past is easy to discern, but, as with all things, success takes time. In 2023, Oklahoma hopes to get back to its winning ways, while many are deeming USC a legitimate national title contender with Caleb Williams at the helm.
However, there's more than just success on the field working in Riley's favor it seems. In a recent appearance on The Herd with Colin Cowherd, Riley gushed about how great it is to live in LA.
"What has the move been personally like for you and your family?"
"It's been great. We've loved it. We've embraced all parts of living here. The people here have embraced us. Other places we've lived have been great too, this is just great in a different way. The life away from the office is so good in so many different ways, with just the experiences and being able to have a little bit of a normal life when we're not at work has been tremendous… I think some of the negative things that you hear outside about LA, when you're an outsider coming in, to me, have not really been much of a factor. We've just enjoyed every part of it and I just couldn't imagine living anywhere else right now."
Cowherd is, and has been, a big fan of all things Los Angeles for years, and his most recent guest sure seems to think LA is "great" too.
If you can look past the cost of living, outrageous tax fees, and absurd regulations, Los Angeles is great.
With the water shortages, the 11% crime hike over the last year, and the highest homeless population of any American city, people can't seem to get out of LA fast enough. However, with Riley set to make an estimated $10 million in 2023, I'm not sure those kinds of things really affect his day-to-day life.