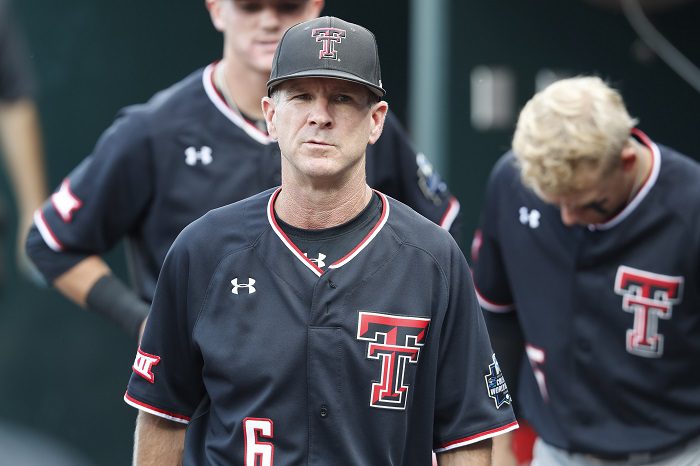 After being swept in Austin and dropping a midweek on the road at New Mexico, Texas Tech baseball looked like they may be in trouble.
Those concerns had even more backing on Friday night when Tech fell behind 8-0 in the top of the second. However, a windy, offensive night in Lubbock, would make eight runs feel like two as they roared back to a 20-16 win.
Tech's top reliever, Brandon Beckel, came back from his controversial four-game suspension with a two-inning save. Then the rest of the weekend was split and offered a huge boost to Texas Tech as they close out a brutally tough schedule to begin Big 12 play.
How The Series Played Out
It was a competitive series throughout with TCU taking early leads in all three games, but were only able to finish once. TCU jumped all over Tech offensively early and often on Friday, plating two in the first and six in the second. The Tech offense that stalled out a couple of times in Austin last weekend would prove just as explosive, though they took a bit longer to heat up. While TCU's offense steadied after the first two innings, scoring one in each of the third, fourth, fifth, and sixth. Texas Tech would fight back with two in the second, three in the third, one in the fifth, and a four spot in the sixth, to make it 12-10 TCU through six. But it seemed TCU would put it away with four in the seventh, with RBIs coming from all three of a single, double, and triple. Then the Texas Tech offense would just explode in the bottom of the seventh, in a game with six Home Runs, Texas Tech wouldn't find any in this inning, but would find a whopping nine runs, as they batted around, to take a 19-16 lead. Brandon Beckel would enter for Tech, and hold TCU to their only two scoreless innings of the game, giving up just one hit and striking out five, to seal the series opener.
Saturday was also pretty high scoring for a baseball game, but compared to the 36-run Friday night, you'd have to say the pitchers seemed on top, compared to the night before. TCU once again hopped out to an early lead, pounding Mason Molina for a pair of solo shots in the first. The damage would continue in the third, as the Frogs again scored a pair on Molina before Tech responded with three of their own to make it 4-3. Another solo shot off Molina would make it 5-3 in the fourth, and four more over the next two would give TCU a 9-3 lead. Much like all Tech games over the past couple of weeks, they would fight back. Kash hit a two-run homer, and Hester would eventually come home to cut it to 9-6 going into the last three frames. Despite Kash scoring in the seventh, TCU would get the run back, and close out Tech, unlike Friday.
Just like the first two games, TCU made another first-inning statement on Sunday, as they hammered Trendan Parish for three runs in the first. Parish didn't fold, however, as he'd respond with three scoreless innings before exiting after pitching four. Tech's offense also wouldn't take long to get going as they scored two in the second, three in the third, and tacked on another in the fourth, to leave their bullpen with a 6-3 lead. It was certainly an emotional day as a pair of Frogs were ejected, and Austin Davis would leave early after taking an 80 MPH slider to the head. It was a banner day for Tech's bullpen as Ryan Free allowed just one run in three innings, and Beckel again pitched another two scoreless for the save. Two Tech runs in the bottom of the eighth to take a 10-5 lead would lighten the load on Beckel, and give the Red Raiders a much-needed series win.
How Does The Personnel Look
This Tech pitching staff has been worse than expected through three conference series, but the offense has been better than advertised. As for pitching, both their reliable starters in Girton and Molina got hammered this weekend. Molina fought back decently for a stretch on Saturday but was nowhere near what you'd expect from him. For Girton, it was an uncharacteristically bad showing, but in all pitchers' defense, the wind was howling that day. Both of the two automatic weekend starters should be better the rest of the way, and the schedule will lighten up. As for Parish, that was a horrible first inning on Sunday, but to his credit, he battled back quickly and actually was able to turn the game to the bullpen with the lead. Despite the poor start, there's certainly a really good chance that Parish could be the Sunday starter, the rest of the way. 
What may be more troubling than the starters though, is the bullpen. Sunday aside they didn't look the part this week. Now there is some good news for this team, as Beckel is as good as advertised, and Ryan Free is proving a reliable arm out of the pen. Projected starter Bo Blessie has been injured, but there is some optimism he could return in time for the Regional, at least as a bullpen arm. Derek Bridges is also another arm that's getting healthy so you could go from two reliable arms right now to four by the time the Tournament rolls around. Andrew Devine, struggled mightily against Texas last Saturday, but could still be considered a decent piece, and a pair of young guys that impressed in the Statesboro Regional last year in Garrett Crowley and Josh Sanders, could complete the bullpen.
Offensively this team is stacked. They're littered with talent such as Kash, Green, Washburn, White, and Lopez, just to name a few. While their situational hitting left a ton to be desired last weekend, that was no issue this past weekend. Tracer Lopez is a guy that needs special consideration here, as he has been sensational defensively at shortstop, and could be a staple there for years to come. Dylan Maxcey has also proven a capable Saturday catcher, as he's been solid defensively and is now up to 10/43 on the year as a Freshman. Errors have been an issue for this lineup defensively, and certainly needs to improve as conference play. There also could be a reinforcement coming in Dillon Carter, as he could return before the end of the season.
Where Does Tech Go From Here
The schedule will certainly lighten up for Texas Tech as they've already seen Oklahoma State, Texas, and TCU, winning two of the three series. An easy week is on deck with ACU and North Dakota State, before it heats up with a midweek at Stanford, the team that put it on them in the 2021 Super, and a trip to Norman. Three road conference series await and all could be tricky, OU's in a rebuilding year, but won't be an easy out on the road. Kansas State likely won't make the tournament but did sweep OU in Manhattan. Then West Virginia is an interesting team, they're ranked, but it's early, and they haven't gone through the gauntlet yet. Neither of the three-road series will be easy, but 6-3 should be achievable. 
Tech's last two home Big 12 series are full of opportunities, as Kansas and Baylor seem to be bottom feeders. Anything under 5-1 would have to be considered a disappointment. A National Seed seems out of reach at this point, as this team looks like they'll fall in the 9-24 range. I'd be surprised if Tech's a three-seed again this year, and it seems like with how young this team is, and potential reinforcements. This should be a much better team in June, than they were in March.