Baylor Bears
Big 12 Baseball Power Rankings: Oklahoma State and West Virginia Lead the Way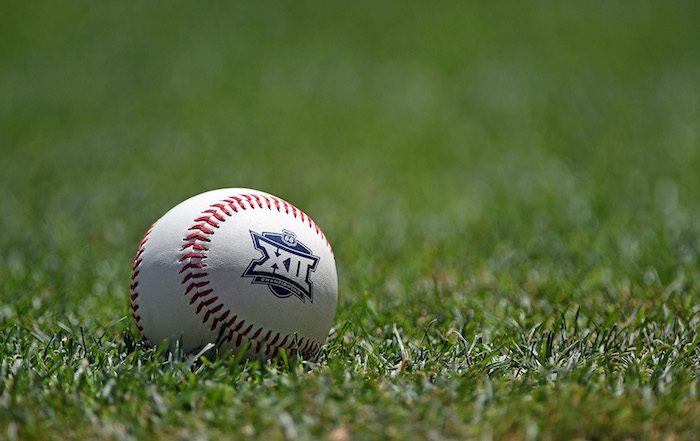 Conference play is here as we just wrapped up another week of the season. It was a busy weekend full of surprises and big moments.
Each week, Heartland College Sports will release its Big 12 baseball power rankings, and here are this week's rankings.
1. Oklahoma State Cowboys (Last Week #1)
The Cowboys remain in the top spot after a big series win against Texas last weekend. After a disappointing loss on Friday, Oklahoma State responded with back-to-back wins to close out the series. Juaron Watts-Brown pitched a gem on Saturday before Nolan Schubart knocked in the game-winning run on Sunday. Right now, Oklahoma State looks like the team to beat in the Big 12.
2. West Virginia Mountaineers (Last Week #2)
Just like Oklahoma State, I kept the Mountaineers in the same spot as last week. West Virginia went on the road to take on Kansas State and was able to take two out of three which isn't always easy to do in the Little Apple. What really impressed me was their offense led by J.J. Wetherholt, who is the best hitter in the Big 12. All this team does is win and I can't wait to see them back in action.
3. Texas Longhorns (Last Week #3)
It's hard for me to move a team down after falling short in Stillwater. O'Brate is a tough place for any team to play and Texas was in a prime position to take the series but they couldn't hold on. Obviously, Lucas Gordon looks great on the mound but their offense had a little trouble against the Cowboys which was a bit surprising. I still believe in this team but they certainly let one slip away on Sunday.
4. Texas Tech Red Raiders (Last Week #4)
I hate to be boring here because the top four has been the same. After getting swept against Texas, the Red Raiders had a nice bounce-back weekend in Lubbock against an interesting TCU team. While the pitching struggled, Texas Tech's offense had no issues over the weekend. While I do think the Red Raiders can play with anyone, I am just not sure if their pitching can take them to Omaha.
5. Oklahoma Sooners (Last Week #7)
The Sooners are back in my top five after a great weekend against a top-ten Stanford team. Oklahoma lost game one but won back-to-back games against the Cardinal to take control of the series. While they did lose on Sunday, splitting a four-game series against a top-ten team isn't bad at all. I just wonder if this team can build off this moving forward.
6. TCU Horned Frogs (Last Week #5)
For whatever reason, I can't get a feel for this team at all. In one game they look like the best team in the Big 12 and the next they look like a team who may not even make the postseason. Their offense looked a lot better last weekend in Lubbock, but their pitching fell off a cliff a little bit. I was really surprised to see Cam Brown struggle on Sunday in the rubber match.
7. Kansas State Wildcats (Last Week #6)
While the Wildcats lost a home series against West Virginia, I liked what I saw from them. Roberto Pena had a monster week earning Big 12 honors and Cash Rugely has been on fire as well. Plus, Owen Boerema had been good on the mound too. Kansas State is an interesting team that I could see playing in the postseason.
8. Kansas Jayhawks (Last Week #9)
How about them Jayhawks? I didn't think they would win a Big 12 series and they went out and swept Baylor at home last weekend. It was their first conference sweep in four years and I certainly didn't see it coming at all.
9. Baylor Bears (Last Week #8)
After getting swept by Kansas, the Bears are now 0-6 in their last two series in Big 12 play. I have a hard time seeing them win another conference series after upsetting Kansas State two weeks ago.
10. Iowa State Cyclones (Last Week #10)
Bring back Iowa State baseball, please.