Baylor Bears
Big 12 Basketball Transfer Portal Thoughts for April 5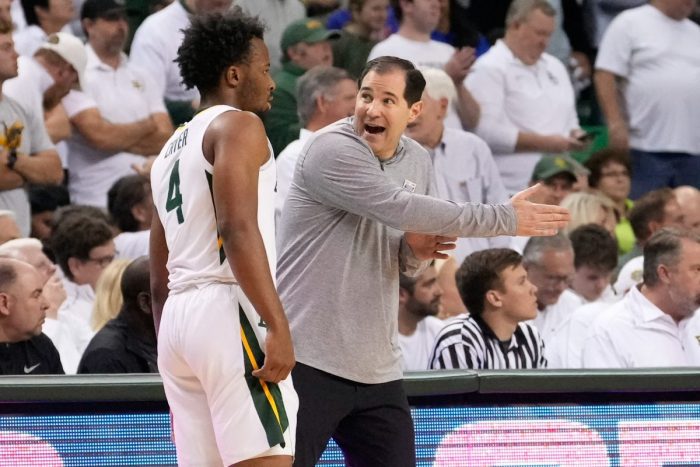 The transfer portal is roiling both Big 12 men's and women's basketball as the NCAA Tournaments are now over and everyone is in offseason mode.
Each Wednesday I'll have some thoughts on what's going on in the transfer portal from a Big 12 perspective, at least until things settle down. Which, frankly, could be never.
No more L.J. in Waco?
I was a little surprised to see L.J. Cryer hit the transfer portal on Monday. He's set to be the star of that offense next season, given that Keyonte George is headed to the NBA and Adam Flagler is out of eligibility. He would have been their top returning guard and likely pair with Langston Love and one of the incoming freshmen in the starting lineup, or even Dale Bonner.
Of course, that assumes that Cryer doesn't go to the NBA. He declared for the Draft but kept his eligibility, which is a smart move.
Cryer will test both waters. These days, once a player heads to the portal they tend not to come back. And a player with Cryer's 3-point shooting ability will have no shortage of suitors.
That's a shame for Baylor, which will now have to look to the portal for a replacement.
Massoud on the Move
As with Cryer, I'm surprised that Kansas State forward Ismael Massoud hit the transfer portal late last week. He had a great NCAA Tournament and the Wildcats would have room for him in the starting lineup next year. He could have become a double-digit scorer. He would have had a bigger role.
Given that he's already transferred once (he was at Wake Forest), it's hard to project where he might go. But given that he's from New York City, I wouldn't rule out joining a Big East school that gets him closer to home. I hear St. John's has a new coach with a history of winning. Some guy named Pitino?
And MJ Makes Five
MJ Rice was a five-star recruit who signed with Kansas out of prestigious Oak Hill Academy last year. He was injured for a good portion of his freshman season. But with the departures of key players, along with four players in the transfer portal, the opportunity for playing time next season was in his future.
Now he is in the transfer portal. I'm not sure what it says when five-star players are transferring from a program like Kansas where there is an obvious chance for playing time with a program that contends for national titles yearly.
New Homes
Oklahoma transfer C.J. Noland and TCU transfer Eddie Lampkin became the first two notable Big 12 players to commit to other programs.
Noland is set to join Saint Louis. Lampkin, meanwhile, announced his transfer to Colorado on Monday.
It's usually a trickle and then it picks up steam. Expect more commitments in the next couple of weeks.
TCU Gets a Guard, Loses a Guard
The Horned Frogs landed a significant incoming transfer with Jameer Nelson Jr., who was at Delaware last season. Nelson averaged 20 points last season for the Blue Hens and is the son of former NBA player Jameer Nelson, who played at Saint Joseph's. The elder Nelson was also a national college player of the year.
With Mike Miles Jr. headed to the NBA, his commitment is well-timed. Perhaps that led Shadada Wells to hit the transfer portal on Monday. Even with Nelson entering the program, there was playing time to be had for Wells, who flashed quality play in Miles' absence in February.
Baylor Women Get Better
Baylor needed some height and some toughness with the graduation of Caitlin Bickle. In comes Madison Bartley.
Bartley, a 6-foot-3 forward from Belmont, committed to the Bears over the weekend. She averaged 14.1 points and 5.1 rebounds last season. When you consider that Aijha Blackwell announced she was coming back after missing most of last season due to injury — and Blackwell averaged a double-double two seasons ago — Bartley gives the Bears another interior player that can rebound and score.
It's a good transfer get for coach Nicki Collen.
OSU Leaking Talent
The Oklahoma State women are losing five players due to eligibility from this NCAA Tournament team. Three are starters. That leaves plenty of playing time to claim.
Well, the Cowgirls have already lost four players to the portal — forward Taylen Collins, guard Macie James, guard Lexy Keys, and forward Makyra Tramble.
Losing Keys hurts. She's a quality 3-point shooter and defender. She also started last season. Tramble had a COVID waiver and played little due to injury. But she was a Division II National Player of the Year two seasons ago. Coach Jacie Hoyt had plans for her before the injury. Collins nearly averaged a double-double as OSU's top inside threat.
Hoyt has work ahead to keep the Cowgirls in line for an NCAA Tournament berth next season.
Meanwhile, on the men's side, guard Avery Anderson III will test out the transfer portal, taking with him more than 80 starts over four seasons for the Cowboys.
You can find Matthew Postins on Twitter @PostinsPostcard
Big 12 Basketball Transfer Portal
(as of April 4)
Men
Outgoing — Baylor: G L.J. Cryer, G Jordan Turner, G Dale Bonner; Iowa State: G Eli King; Kansas: F Cam Martin (to Boise State), F Zach Clemence, G Bobby Pettiford Jr., G M.J. Rice, G Joseph Yesufu; Kansas State: F Ismael Massoud; Oklahoma: G Joe Bamisile, G Bijan Cortes, F Jalen Hill, G C.J. Noland (to Saint Louis), G Benny Schroder; Oklahoma State: G Avery Anderson III; TCU: F Souleymane Doumbia, G P.J. Haggerty, F Eddie Lampkin (to Colorado), G Michael Niemann, G Shahada Wells; Texas Tech: F Fardaws Aimaq, F KJ Allen, G Elijah Fisher, F Robert Jennings; West Virginia: G Josiah Davis,F Jamel King. Houston: G Tramon Mark, C Kiyron Powell (to Southern Indiana) UCF: G P.J. Edwards, G Tyem Freeman, F Brandon Suggs, C Lahat Thioune, G Jayhlon Young.
Incoming — TCU: G Jameer Nelson Jr. (from Delaware); Texas Tech: F KyeRon Lindsay (from Georgia); West Virginia: F Jose Perez (from Manhattan), G Omar Silverio (from Manhattan).
Notes: Perez transferred to WVU in November but didn't get a waiver to play in 2022-23. Silverio transferred in March and needs a waiver.
Women
Outgoing — Baylor: F Kendra Gillispie; Houston: G/F Paris Netherly; Houston: G/F Paris Netherly; Iowa State: G Lexi Donarski, G Maggie Espenmiller-McGraw, G Denae Fritz, F Morgan Kane, F Maggie Vick; Kansas: G Bella Swedlund (Toledo), F Katrine Jessen; Kansas State: G Mimi Gatewood, C Taylor Lauterbach; Oklahoma State: F Taylen Collins, G/F Macie James, G Lexy Keys, F Makyra Tramble; TCU: G/F Evie Goetz; Texas: G Kyndall Hunter, F Femme Masudi; West Virginia: F Isis Beh, G/F Wynter Rogers (to Arkansas State), G/F Savannah Samuel; Houston: G De'Myla Brown, G Kendall Brown, G.F Paris Netherly.
Incoming — Baylor: F Madison Bartley (from Belmont); Oklahoma: G Kaley Perkins, G/F Payton Verhulst (from Louisville); Oklahoma State: F Hannah Gusters (from LSU); BYU: G/F Jennah Isai (from Oregon); UCF: G Ashley Foster (from Georgia State), G Kaitlin Peterson (from Indiana), G Timia Ware (from LSU); Houston: F Maliyah Johnson (from Pitt).
Sources: Players' social media accounts, Verbalcommits.com, 247Sports.com, Wbbblog.com