featured
Big 12 Players Who Should Go in First Round of 2023 NFL Draft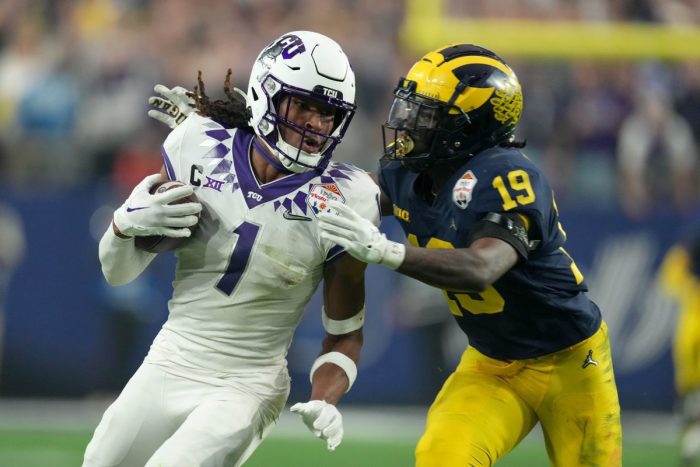 The 2023 NFL Draft will be coming to Kansas City April 27th-29th, and there is a good chance one of your favorite Big 12 players who have declared for the draft will be picked that weekend. There are a select few who will be drafted on day one in the first round of the draft.
Who will be taken highest? Will there be any surprise selections? How many Big 12 players will be drafted in the first round? Using the Pro Football Focus mock draft simulator, we were given the idea of a potential scenario when six Big 12 players were selected in the first round of the 2023 NFL Draft. Here's how things were able to shake out.
Pick 5, Seattle Seahawks, Tyree Wilson, EDGE, Texas Tech
The Seattle Seahawks are hoping to upgrade their pass rush and taking Tyree Wilson could be a home run pick. Wilson has one of the highest ceilings of any pass rusher in this year's draft. He has the size (6'6"/276 lbs) to be a monster at the next level and would be a starter from day one. He had 14 tackles for loss and seven sacks in 10 games played as a senior at Texas Tech. There's a lot to like about Wilson's game and he should thrive at the next level, especially if he lands with a team like the Seahawks
Pick 8, Atlanta Falcons, Quentin Johnston, WR, TCU
The Atlanta Falcons are looking to add weapons to their offense and grabbing a guy like Quentin Johnston in the top 10 would be a good place to start. Johnston is explosive in and out of breaks and has a good handle on route running which gives him an edge going into his rookie season in the NFL. Johnston's catch radius is impressive and his ability to get the yards after catch consistently will immediately give his new team a big play threat each time he's in the game. He should also be a day-one starter on whatever team drafts him.
Pick 23, Minnesota Vikings, Will McDonald IV, EDGE, Iowa State
As expected, McDonald has been rising up draft boards since showing off his skills at the NFL combine and his pro day. McDonald is 6'4" and weighs in at 240 lbs, but could gain some weight to become an elite pass rusher at the next level. He finished his senior season with a team-high five sacks along with four pass breakups. He also added 38 tackles including 7.5 tackles for loss, for the Cyclones. McDonald would be a welcome addition to any team and he should be able to break into the starting lineup immediately for a Vikings team who has struggled to get after the quarterback the past few seasons.
Pick 26, Dallas Cowboys, Bijan Robinson, RB, Texas
This seems like the obvious pick, right? Robinson played his college ball at Texas and being drafted to Dallas just seems like a great fit, especially since the Cowboys moved on from former first-round running back Ezekiel Elliot this offseason. Robinson is a top-10 talent but NFL executives don't value running backs the way they used to. That said, Robinson should be the first running back off the board, so any team looking to upgrade at the position would be smart to take him in the first round. He is one of the rare running backs with power, size, speed, and good hands and he can be an every-down player at the next level. Pairing Robinson with Tony Pollard would be a great move for the Cowboys.
Pick 29, Cincinnati Bengals, Anton Harrison, LT, Oklahoma
Despite trying to upgrade their offensive line last offseason, Joe Burrow was still one of the most pressured quarterbacks in the league in 2022. Yes, the Bengals added Orlando Brown Jr to the mix, but a team can never have enough depth along the offensive line. Harrison brings a lot of experience, starting at left tackle over three seasons for the Sooners. Harrison has also played right tackle, so he has the experience to be able to play either tackle position which can go a long way for coaches and evaluations. Harrison could potentially be an immediate starter depending on where he lands, but it's most likely he will be in a reserve role to begin his career but could start at any time if given the opportunity.
Pick 31 Kansas City Chiefs, Felix Anudike-Uzomah, EDGE, Kansas State
Anudike-Uzomah is a perfect size (6'4"/260lbs) defensive end for the Kansas City Chiefs. With the exit of veterans like Frank Clark and Carlos Dunlap, this would be a great match as the Chiefs continue to try and get younger along the defensive line. Anudike-Uzomah would be able to be an immediate rotational player with the potential to be a starter sooner rather than later. For a team that is defending a Super Bowl championship, that's all you can ask for when it comes to the final pick in the first round.
The Big 12 continues to put more and more players into the NFL and it would be an absolute delight if there ends up being six of those players drafted on opening night of the draft in Kansas City. We could see more, or less, players from the conference be selected in the first round, so keep your eyes and ears open as teams start making the picks to kickoff this year's spectacle that is the NFL Draft.