featured
Bill Self: 'I Am 100% Positive I Will Be Coaching This Upcoming Season at The University of Kansas'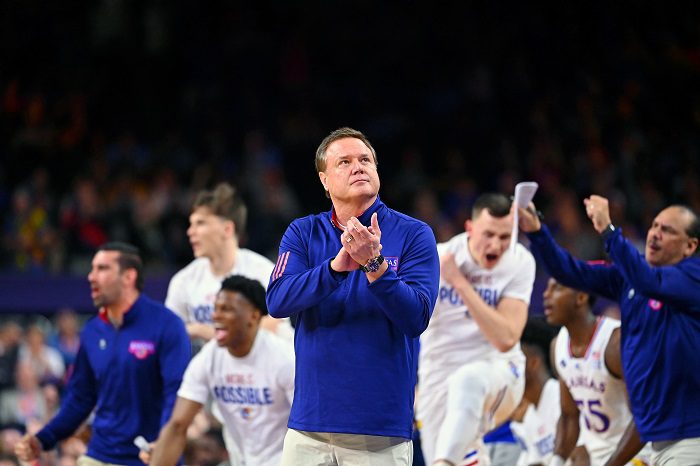 Kansas Jayhawks head coach Bill Self squashed any rumors in recent days since the announcement of a press conference that he's calling it quits and retiring.
"I am 100% positive I will be coaching this upcoming season at The University of Kansas and hopefully many beyond that," Self said during a Wednesday morning presser in Lawrence, via KU247's Michael Swain.
In fact, Self, who mentioned that he's "taking it serious for the first time in my life" when addressing his health and lifestyle, gave the indication that he could still be around for a while as the Jayhawks head man.
"When I think of the end now, I think it's further away," Self said.
Self, of course, missed Kansas' two games in the NCAA Tournament and the entire Big 12 Tournament after a health emergency last month forced him to go to the hospital. He went into the hospital complaining of chest tightness and balance concerns, and after an assessment, he underwent a standard heart catheterization and had two stents placed for the treatment of blocked arteries.
The prognosis was positive at the time the Jayhawks were in the Big Dance, and he was expected to rejoin the team if it advanced to the Sweet 16. Unfortunately, that did not turn out to be the case when Kansas fell 72-71 to the Arkansas Razorbacks in the Round of 32.
But he's back with the Jayhawks, and by his account, is feeling better than ever.
"My energy level is back to where it was prior to the episode," Self said.
Self has coached the Jayhawks to a pair of national championships, in 2007-08 and 2021-22. He's also directed them to 17 Big 12 Regular Season Championships, including a string of 14 straight from 2005-2018. Self owns a 580-132 (.815) record at Kansas, part of a 787-237 (.769) all-time mark as head coach.