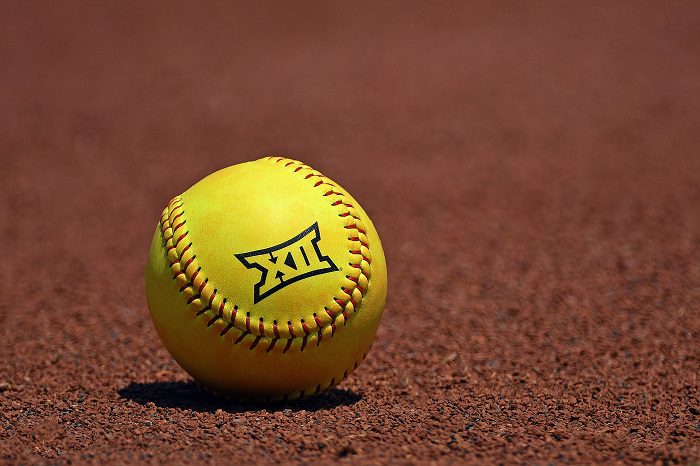 Week 9 of the 2023 college softball season is here, and the Big 12 race is starting to heat up as we get into the heart of the conference schedule.
We are heading into the second weekend of April, meaning that the Big 12 Softball Tournament is just over a month away, but there are still plenty of games to be played before we get there.
Usually, we just rank the Big 12 conference series in this article, but the out-of-conference slate for this week is uncharacteristically full of big-time matchups. Because of that, the nonconference slate will be ranked among the Big 12 series in this post as well.
Let's get into it.
DATE: APRIL 6-8 | TIME: 5:00 PM CT, 5:00 PM CT, 12:00 PM CT | LOCATION: LAWRENCE, KS | TV: ESPN+
If there is such a thing as a snoozer in this week's matchups, it's got to be this series. While crazy things do happen in softball from time to time, I just don't see any way that Kansas could beat Oklahoma State in this series. The Cowgirls are a vastly more talented team, they're coming off a loss to Wichita State, and the Jayhawks have been wildly inconsistent all season long. Sure, KU could steal a game if a few things broke their way, but OSU losing this series would be the biggest upset of the year. Oklahoma State's offense, led by Rachel Becker, averages 7.09 runs per game (eighth nationally) and maintains a team batting average of .349 (fifth nationally), while the defense ranks third nationally in fielding percentage (.983), and 15th in ERA (1.83). Meanwhile, KU ranks 188th in batting average (.252), 115th in scoring (4.45 runs per game), 166th in fielding (.959), and 96th in ERA (2.94).
DATE: APRIL 6-8 | TIME: 4:00 PM CT, 4:00 PM CT, 1:00 PM CT | LOCATION: AMES, IA | TV: ESPN+
Both Texas and Iowa State are coming off of series losses, with the Longhorns getting swept by Oklahoma and the Cyclones losing two of three to Texas Tech. Iowa State gets the luxury of getting back home to figurte things out, while Texas is on the road for the second-straight weekend. However, I don't expect the home crowd advantage to play much of a factor in this one. Texas is a true threat to make the Women's College World Series this season, while Iowa State hasn't looked anything like a postseason team to this point. Texas offense is among the best in the country, ranking sixth in batting average (.340), 13th in scoring (6.67 runs per game), and 19th in slugging percentage (.521). Meanwhile, Iowa State's team ERA ranks 196th, with 4.16 runs on average. This is a bad matchup for the Cyclones, and one I wouldn't be surprised to get lopsided.
DATE: APRIL 6-8 | TIME: 6:00 PM CT, 6:00 PM CT, 1:00 PM CT | LOCATION: NORMAN, OK | TV: ESPN+
The Red Raiders traveling up to Norman provides us with the best conference series of the weekend. The Red Raiders are trying to push their way through as a legitimate postseason team, but a 2-4 start in conference play isn't ideal. With OU, OSU, and Texas all playing elite softball, the ceiling is really only so high for teams like Texas Tech and Baylor, but stealing a game from one of those teams can build a resume quickly. Texas Tech's bats have been their rallying point this season, ranking fifth nationally in slugging (.590), sixth in home runs per game (1.60), 10th in scoring (6.70 runs per game), and 15th in batting average (.324). Unfortunately for them, the Sooners are pretty good in those categories as well. OU ranks first in batting average (.390), first in slugging (.704), first in scoring (8.82 runs per game), second in home run per game (1.85), first in fielding (.989), and second in ERA (1.00).
DATE: APRIL 6-7; APRIL 11 | TIME: 2:00 PM CT, 11:30 AM CT; 6:00 PM CT | LOCATION: KNOXVILLE, TN; BATON ROUGE, LA | TV: N/A; ESPN2
The nonconference slate gives us two fantastic Big 12 vs. SEC ranked matchups, with #22 Baylor taking on #5 Tennessee on Thursday and Friday, and #1 Oklahoma traveling to Baton Rouge to take on #11 LSU. In what is perhaps the biggest travesty in softball so far this season, the Baylor vs Tennessee matchup is not televised. Not even on ESPN+. The Oklahoma vs. LSU matchup will be on ESPN2 on Thursday, but not having a ranked matchup in one of the fastest growing sports in the country is absurd.
Dari Orme will likely be busy against the Lady Vols if the Bears want to keep pace in this two-game series. Tennessee's pitching staff might just be the best in the country. With 17 shoutouts (second nationally) and a 1.01 ERA (third nationally), the Lady Vols can win games with defense. Meanwhile, Baylor's 10 shutouts (22nd nationally) and 1.73 ERA (10th nationally) aren't too shabby either. 
Oklahoma's trip to LSU will certainly be one to watch as well. The Tigers are a well balanced team offensively and defensively, ranking 16th in ERA (1.90) and batting average (.323). LSU is coming off a three-game sweep at the hands of Tennessee.