Trending Now
Deadline Now 'Late Spring, Early Summer' for Pac-12 TV Deal: Report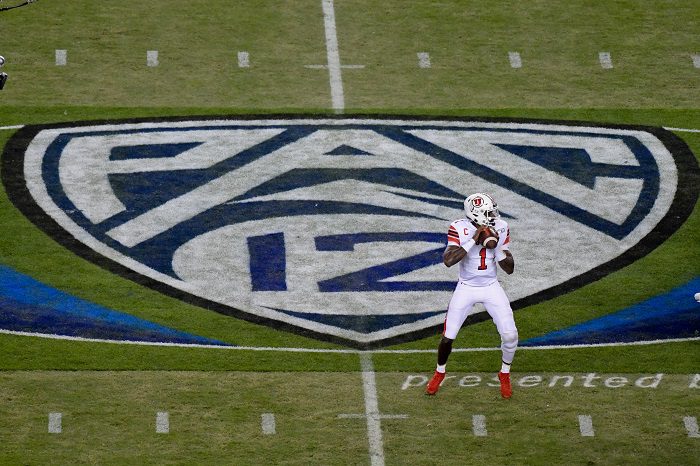 After high-level officials within the Pac-12 had been confident in a new television deal getting done soon, they've now changed their tune. A source indicated to The Athletic's Stewart Mandel that the expected timeline for a deal is now "late spring, early summer."
The comments for a deal getting signed, sealed and delivered in short order were "overly optimistic," the source told Mandel.
This is just a day after sources remained steadfast that the conference will line up a television deal that is more profitable than the Big 12's. That's according to a report by John Canzano, whose connects are "confident" the league will eclipse the Big 12's figure of $31.6 million per team.
"I'm not sure that distribution benchmark matters as long as the Pac-12 lands in range of that figure, but that's what I'm being told by those in the room," Canzano wrote.
Still, this runs contrary to what CBS Sports' Dennis Dodd reported as recently as last week. In that, he said the Pac-12's media rights deal is "not close."
Arizona president Robert Robbins has been one of the most vocal executives during this process, and set a soft deadline of April 15 for the deal to get done, which made all sorts of waves.
Now, with just 10 days until that date, Robbins is out of the country, embarking on a trip to Kazakhstan on Tuesday. With plans to be gone until the second week of April, this sounds like an ill-advised journey, right? Not if you ask him.
"I have heard nothing to suggest [a deal is] imminent," Robbins told CBS Sports last week. "There's all these things about, well, 'We want to wait until [after] the Final Four.' That has nothing to do with it. It has to do with assessing who is the right fit, who assesses us.
"I hope [commissioner George Kliavkoff] gets something done sooner rather than later so that the whole thing stops, so we don't have focus on it. [But] I am perfectly willing to sit here and wait."
As Dodd points out in his report, several "deadlines" have come and gone in this negotiation process, and we aren't any closer to a linear television deal for the Pac-12 than we were last summer.
"Lots of deadlines — soft or not — have come and gone," Dodd writes. "Last May, Kliavkoff said he hoped to "piggyback" the Big Ten media rights deal to increase his conference's valuation. A few weeks later. USC and UCLA announced their intention to leave. Less than two months after their departure,the Big Ten signed a record TV rights deal, leaving the Pac-12's value gutted without its two Los Angeles flagships.
"In October, the Pac-12 went to the open market after an exclusive negotiating window with ESPN and Fox expired. Multiple sources continue to tell CBS Sports that Fox remains out of the bidding. ESPN is still believed to be interested along with at least one streaming provider.
In addition to saying that nothing is imminent, Robbins told CBS Sports that he believes that the majority of the Pac-12's games will be on linear television, and not streaming, which is a "significant claim."
"This whole streaming thing? That's overplayed," Robbins said. "I think this deal is going to have a heavy traditional analog cable [piece]. I think. There may some streaming in it, but I don't think anybody would want to go majority streaming."
While Robbins says that the Pac-12 is mostly united, saying around "95%," he also noted that Arizona was just a "drive to Lubbock" two weeks ago in a separate conversation with CBS Sports. Robbins knows that the Wildcats have options if the Pac-12 goes belly-up at the negotiating table.
"It wasn't because I was emboldened because we have options," Robbins said. "There is no deal or no agreement where, if everything blows up, we've got someplace to go."