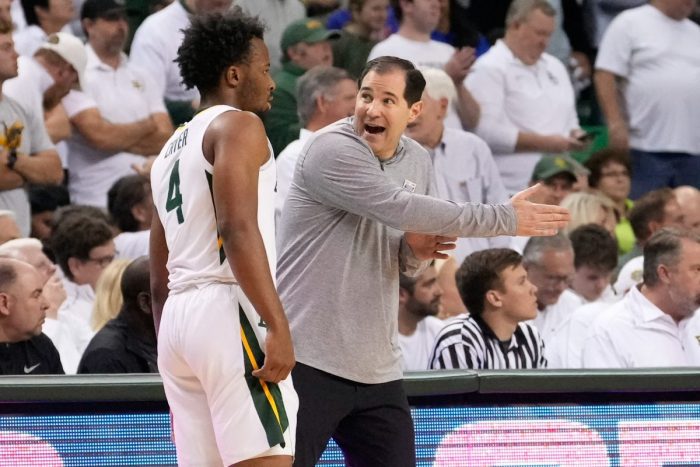 Former Baylor Bears guard LJ Cryer is planning to visit a trio of Big 12 schools. Kansas, Kansas State and incoming member Houston are all on his list, according to FOX 26 Sports Director Mark Berman.
His visit to Houston is set for Friday, while he has one scheduled at Kansas State next week and possibly a third to Kansas after that, per Berman. Cryer is also entering his name into the NBA Draft, while protecting his collegiate eligibility.
"I've been looking at more of the Big 12 schools," Cryer told Berman. "That's really it right now. A lot of other schools have a lot to offer, but right now I'm thinking, as of today, that I'm trying to stay in the Big 12 Conference."
As for a decision timeline, well, it doesn't appear to be far off.
"Sometime soon," Cryer said. "I'm probably not going to release it until I'm done with everything in the Draft. Within the next week or two I feel like I should know who I'll end up going to, if I decide not to go thru the whole Draft thing. If I decide to come back, I'll let the coaches know, too."
Cryer averaged 15.0 points, 2.1 rebounds and 2.0 assists per game during this just concluded third campaign in Waco. In so doing, he shot it 45.3% from the field, including 41.5% from 3-point range on 6.2 attempts per contest. His career averages are 11.3 points, 1.6 assists and 1.5 rebounds per game, as he's shot it 42.5% from long range.
Arkansas, Central Florida, Gonzaga, Houston, Illinois, Kansas, Kansas State, LSU, Oklahoma State, Texas A&M and some other high-major programs have all reached out to Cryer since he entered the portal, per to 247Sports Brandon Jenkins.