Big 12 News
Kansas Announces Two Additions to Future Schedule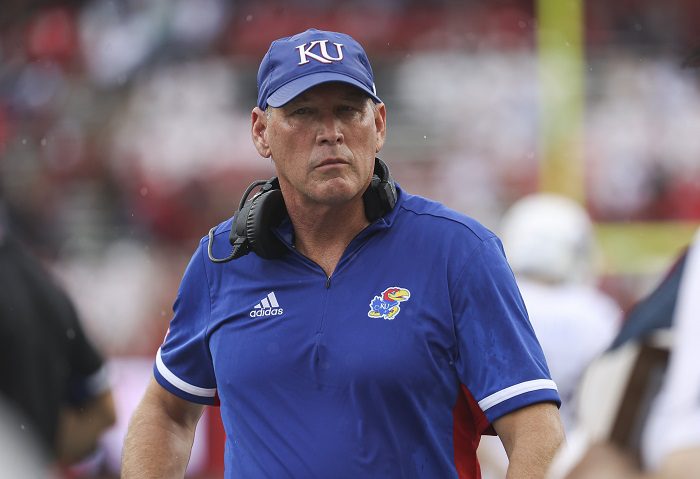 Lance Leipold and the Kansas Jayhawks have added a pair of teams to their future football slate. They'll take on Middle Tennessee State in 2026 and Colgate in 2029, according to a report by Michael Swain of KU247.
That means the Jayhawks will now face both Middle Tennessee and Missouri during the first of those two aforementioned campaigns. In 2029, they're also set to welcome Nevada after they open the season at Virginia, so the schedule for that year appears to be set.
Kansas' schedule is already booked for the next three seasons. Those include this upcoming fall against Missouri State and Illinois, followed by a road trip to Nevada, in 2024 home dates with Lindenwood and UNLV, sandwiched around a return trip to Illinois, and in 2025 matchups against Fresno State and Stephen F. Austin, before the Jayhawks travel to Missouri.
The Jayhawks additionally have a home-and-home set up with Washington State later this decade. The two will meet in Pullman during the 2027 season, with a meeting in Lawrence the following year.
Kansas and Missouri then convene for another home-and-home during the 2031 and 2032 seasons. The first of those will be in Columbia and the second in Lawrence.
Leipold just took the Jayhawks to their first bowl appearance since the 2008 season, as they lost to Arkansas 55-53 in the Liberty Bowl. The finished with a 6-7 record overall and a 3-6 mark in Big 12 play. At one point, they were actually in the Top 25 and hosted College GameDay for a meeting with eventual national runner-up TCU.